Reps Move to Trim AGF's Prosecution Powers, Seek Separation of Office From Justice Minister's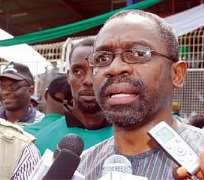 ABUJA, May 23, (THEWILL) - The House of Representatives on Wednesday passed, for second reading, a bill seeking to amend section 174 of the 1999 constitution.
The amendment is to reduce the powers of the attorney-general of the federation (AGF) from initiating, taking over or discontinuing any criminal proceedings.
Similarly, the House passed, for second reading, a bill to separate the office of attorney-general of federation (AGF) from that of minister for justice, to provide for an independent office of the AGF.
Leading the debate for the amendment of section 174 of the constitution to whittle down powers of the AGF on criminal cases, particularly corruption-related charges, the sponsor, Hon. Femi Gbajabiamilah (ACN, Lagos) submitted that the section had given the AGF "wide and ominous" powers to institute, take over or withdraw criminal proceedings but there is urgent need to "remove these powers in relation to EFCC cases."
He argued that if the amendment is granted, the AGF can only exercise these powers subject to act of parliament, and the EFCC would be better empowered to do its job without hindrance.
Attempts by the chairman of the Committee on Power, Hon. Patrick Ikhariale (PDP, Edo) to kick against the proposed amendment, arguing that the powers given to the AGF are in order since most commonwealth countries have similar provisions for the purpose of national interest, were countered.
Gbajabiamilah had replied that the Crown Counsel Act in the UK and the Ethics of Government Act (USA) 1978 all prescribe the independence and impartiality of the AGF. He explained that the EFCC is more or less an independent special prosecutionary agency, and prosecutionary independence is found all over the world. "If the EFCC is independent, this will help in the fight against corruption," he added.
Others who spoke in favour of the bill were Hon. Bimbo Daramola (ACN, Ekiti), Nkiru Onyejeocha (PDP, Imo), Kamil Akinlabi (ACN, Oyo) and Bitrus Kaze (PDP, Plateau).
When Speaker Aminu Waziri Tambuwal, who presided over the session, put the question, it was overwhelmingly approved. Similarly, the bill sponsored by Hon. Chris Eta (PDP, Cross River) seeking the separation of the office of AGF and minister of justice sailed through second reading.
Eta had in his presentation argued that the office of AGF ought to be a professional and independent position different from that of the minister, who is a political appointee, hence the need for separation.
He was supported by Hon. Uche Ekwunife (APGA, Anambra), Bamidele Opeyemi (ACN, Ekiti), Femi Gbajabiamilah (AÇN,Lagos) and Mohammed Monguno) (ANPP, Borno).
They harped on the unacceptability of a situation where the AGF acts as company secretary to the federal government. Monguno also suggested that the amendment should extend to state AGFs, too.
Both bills were referred to the committee on the review of the 1999 Constitution.