Nigerians, Other Nationals To Undergo TB Screening Before Securing UK Visas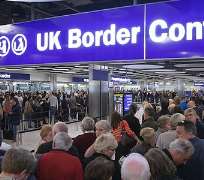 SAN FRANCISCO, May 23, (THEWILL) – From July 2012, Nigerian travellers and those from 66 other countries will be screened for Tuberculosis (TB) before they are issued visa to enter the United Kingdom, British Immigration Minister, Damian Green has announced.
Under the scheme, all migrants entering the UK for more than six months from the 67 high-incidence countries as listed by the World Health Organisation will be screened for the airborne infection before being granted a visa.
With an estimated 210,000 cases, Nigeria occupies a prominent place on the WHO list of countries with high incidence of TB.
"Under the UK immigration rules, the UK Border Agency can require visa applicants to undergo a medical examination for the detection of Tuberculosis (TB)," Press and Political Secretary of the Commission, Hooman Nouruzi, said in a public statement.
"The UK Border Agency currently carries out pre-entry screening for TB for non-EEA migrants who are resident in 15 countries (Bangladesh, Cambodia, Ghana, Burkina Faso, Cote d'Ivoire, Togo, Niger, Kenya, Eritrea, Somalia, Pakistan, Sudan, Tanzania, Thailand and Laos). We are proposing to extend pre-entry screening of applicants to an additional 67 countries which have been identified using World Health Organisation (WHO) data as having a high-incidence of TB, on a phased basis from around July 2012."
Under the new visa rules, which will be brought in three stages over 18 months, infectious TB sufferers and those diagnosed with active TB will be denied entry to the UK. The pre-entry screening will replace screening at UK airports after a pilot scheme in 15 countries found 300 active cases among 400,000 migrants.
Nouruzi explained that more extensive and effective TB detection checks, using pre-entry screening, will help to save lives by promoting earlier detection and treatment, and also allowing for early intervention for families.
"It will also help in protecting global public health by helping prevent the transmission of TB in-flight and reduce congestion and waiting times at UK airports for those coming to the UK by phasing out on-entry screening at UK ports," he added.
TB is estimated to be at its highest level in the UK for more than 30 years, with 9,000 new cases recorded in 2011, up five per cent from 2010. The airborne infection, which constitutes a global public health issue, kills an estimated 1.8 million people worldwide annually.