Obasanjo Should Prove That We Are 'Rogues And Robbers' - Reps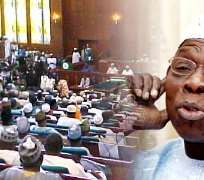 ABUJA, May 23, (THEWILL) - The Federal House of Representatives on Wednesday mandated its Committee on Ethics and Privileges to investigate former President Olusegun Obasanjo on his allegation that the National Assembly is filled with "armed robbers and rogues."
The committee is expected to summon the former president anytime from next week to defend his utterances.
The directive was given following a motion under matters of privilege, raised by the deputy minority leader, Hon. Suleiman Abdulrahman Kawu Sumaila (ANPP, Kano), who drew the attention of the House to the lead story of Blueprint Newspapers of 23rd May, 2012, captioned There're robbers in National Assembly. Other dailies bore similar headlines.
Speaking in Lagos at the 4th annual conference of the Academy for Entrepreneurial Studies, Nigeria (AES) on Tuesday, Obasanjo was reported as saying that "the diligence that was undertaken by political leaders before they are allowed to contest for election into the National Assembly is not done again.
"Armed robbers are in both the National Assembly and state Houses of Assembly. Then what sort of law are they making for the development of this country?"
Kawu, who had wanted to expose alleged misdeeds of Obasanjo, was however stopped by Speaker Aminu Bello Tambuwal, who instead referred the matter to the committee for investigation.
The speaker also prevented his other colleagues from debating the matter, pending the outcome of the investigation by the ethics and privileges committee.
The former did not hit only at the legislature but roundly condemned the judiciary, which he also accused of corruption.
"The judiciary is also corrupt," he blasted. "During my tenure, many of the corrupt judges were removed, some are still there. If the Judiciary becomes corrupt, where is the hope for the nation?"