BUHARI; QUOTING ALIYU OUT OF CONTEXT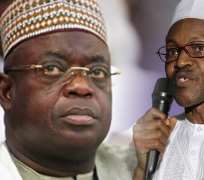 Malcom X, a black American anti slave campaigner describing the plenipotential attributes of the media posited that "The media is the most powerful entity on earth. They have the power to make the innocent guilty and to make the guilty innocent, and that's power. Because they control the minds of the masses."
The power ascribed to the fourth estate of the realm by Malcom X remains a cardinal attribute of the profession. Predicting the news worth interaction between a newsmaker and journalists is as elusive as the tale of searching for phoenix or finding gold in El-dorado. Every reporter prides in making the best interpretation of events the way it will appeal best to readers who are more interested in intrigues rather than actual happenings.
The media took off on a wrong note then the presidency reacted without understanding the main focus of the interview. It appears Buhari's earlier comment veiled all the sense anyone intends to project even though such inference mean well for the entire country.
Last Thursday, the Governor of Niger state, Dr Muazu Babangida Aliyu would once again discover the flipside of interpretative journalism. Aliyu's fault was to canvass for a free and fair election but unfortunately his innocent opinion has been attributed a meaning far removed from the workings of the mind of the Chief Servant.
While not attempting to make excuses or cast value at professional indulgence of journalists at placing too much prominence on Buharis angle of the story rather than promoting governor Aliyu's position over lending voice to the call for free and fair elections it therefore amuses why the Niger state governor would be so quoted out of context.
In Edo state a million supporters of free and fair elections have been reported to have invaded the state INEC in a peaceful protest calling for credible elections. So many things could go wrong in that state if results are manipulated and that is the inference most Nigerians are making to suggest that a possible back turn on peace could lead to violence. To say the least, Aliyu obviously used a more mature language to express what others before him did with unblended language.
Jonathan himself has been quoted as saying all public institutions in Nigerian have failed. The comment has heavy security implication especially from Mr President himself a comment which tends to ridicule all security institutions in the country. Similar statements have been treated passively even though they were made by elder statesmen. It is difficult therefore to posit the major grouse in the whole unfolding episode especially when Aliyu was succinct and categorical.
The position of the presidency on Aliyu's comment at Buhari's recent proclamation does not speak well on value attributed to the deductive reasoning of the governor. Naturally logic dictates he won't work against his party dancing alongside oppositions, it amounts to dancing on the brink of a flaking cliff edge.
Aliyu has never romanced with the truth before hence over the past five years he has remained reporters delight and a nemesis for self seeking politicians. Vintage Aliyu, he spoke his mind especially an oblique prayer for the Independent Electoral Commission (INEC) to adopt a position of a true umpire apparently begging them to avoid any slip that could spiral security situations down the ladder towards anarchy. But he has been construed wrongly.
Democratic practice in Nigeria has come of age where issues are not scaled up for the fun of it. Sometime the resultant consequence of embarking on political pellet shooting may go beyond polka dots on the skin. Selectively giving too much value to General Buhari's position in the 2015 election against barrages of comments in similar direction by big time politicians and elder statesmen does not mean well.
Considering however the level of followers General Buhari has in the north and the episode played out from the fallout of the 2011 elections a word of caution would have sufficed. Sporadic shots aimed at innocent comments would not in any way improve on the heat kindled by the 2015 election three years away.
Like Mr President rightfully stated recently, the problem of Nigeria transcends his regime. He is just picking off inheritance of many decades of systemic and institutional decay. While his position gives an apt description of chronology of elusive peace past leaders may not want to forgive such unsavoury take on the past. Mentioning therefore that Nigeria is troubled over deficit leadership, attendant poverty and engendered official crime does not in any way direct accusing fingers at a particular government.
It would take a vicious circle of blame game and most time sneer from sitting or past leaders each time mention is made of leadership deficit reason for insecurity, corruption and poverty. As difficult as it is for our leaders to savour the truth, there is no other apt description for Nigeria's problems.
Nigeria has managed to reach its maximum capacity of extreme level of volatile content only a match strike away from mutual assured implosion. At this stage taking on every comment could possibly push the limits of the growing tension on the already worn out unity string holding Nigeria together.
Written By Isiaku Haliru
[email protected]

Disclaimer:

"The views/contents expressed in this article are the sole responsibility of

thewillnigeria.com

and do not necessarily reflect those of The Nigerian Voice. The Nigerian Voice will not be responsible or liable for any inaccurate or incorrect statements contained in this article."
Articles by thewillnigeria.com