EXPULSION OF NWOBU ALOR FROM APGA IS A WAY FORWARD- APGA UK CHAPTER.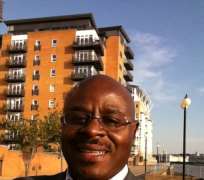 APGA UK Chapter has welcomed with great relief the news of the expulsion of Sylvester Nwobu Alor from APGA for antiparty activities. This followed his much publicised utterances and unguided public comments and activities against the national leadership of the party. The bubbling enthusiasm and the hope Anambra State had since its creation in 1991 has been cannibalized by bad politics due to corruption and confusion in governance perpetrated by the likes of Nwobu Alor with wanton abuse of power, political decay and reckless misuse of State resources.
APGA UK Chapter and all APGA Chapters in Diaspora wishes to remind Nwobu Alor and his accomplice Chekwas Okorie that Chief Sir Victor Umeh is our National Chairman. The Diaspora Chapters are therefore pleased that APGA have moved quickly to install discipline and shown the likes of Nwobu Alor with myopic views the exit door. Nwobu Alor should stop deceiving himself with comments that APGA has not conducted any congress and that his expulsion from the party is illegal. It was the same executive arm of APGA in Anambra State that nominated Gov Obi for his second term in office. The advice given to Governor Peter Obi to conduct local government elections in the State was necessitated by the desire to empower the grassroots and to disarm the enemies of the government and the Party. This is not how to appease the spirit of our great leader Dim Chukwuemeka Odumegwu Ojukwu by destroying the political identity and legacy he left. A progressive government listens to the call of the Party faithful by doing the right things right and not be in alliance with covert enemies of the government and the Party.
Chief Sir Victor Umeh has grown APGA so well that it is now a party to beat and understands perfectly well that storms and crisis are all part of politics. APGA Diaspora Chapters urges Gov Peter Obi to focus more in making sure that APGA members are carried along in all his road map to good governance in Anambra State, delink himself from Nwobu Alor and others that are no longer relevant in twenty first century politics. The governor needs men and women that can sell and implement his sound policies, rather than individuals with questionable pedigree as it is the legacy that he lives behind that will motivate future generation of the State they explained. APGA is there to remain in Anambra State and will continue to grow from strength to strength in consultation with the National Working Committee of the Party.
In a joint condemnation of Nwobu Alor's anti party activities, the APGA UK Chapter Chairman Nnaama Ezeajughi and South Africa Chapter Chairman Engr. Henry Onyekumnaru urged APGA members to disregard every malicious activity from individuals that has no good intensions for the future of our great party. Nigeria has turned into a state whereby elected officers will turn citizens into public enemy number one because they are advised on good governance. It is highly undemocratic in modern politics they said.
Sir Onyeka Mbaso, the General Secretary of UK Chapter described the comments credited to Chekwas Okorie in Daily Sun newspaper on APGA National Chairman Chief Sir Victor Umeh as petty and baseless. Party members should not be distracted by such comments from a man that is not committed to excellence. APGA has moved higher and prosperous than what he imagined. Chekwas Okorie should know that he is politically dead as far as modern politics is concerned. APGA UK Chapter is very impressed with the way Gov Rochas Okorocha is carrying party members along in Imo state and urges him to keep up with the tempo with his rescue mission.
Speaking on the matter the APGA UK Chapter BOT Chairman Sir Jude Ibe described Chief Sir Victor Umeh as a leader that will roll up his sleeves and work assiduously for the progress of the party. That is why he is described within the Diaspora as the people's Chairman because of his tenacity, humility, honesty and confidence he added. APGA will capture South East States in the next general elections and members should be very vigilant with detractors like Nwobu Alor. Even the blind can testify the good works of Chief Umeh and the National Working Committee in APGA. APGA UK Chapter has urged all members to remain calm, composed and steadfast to the main purpose of making sure that our great party triumphs in 2014/2015 general elections.