GEJ Sends House Subsidy Scam Report To Adoke For Action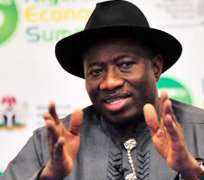 …. Directs EFCC To Move Swiftly
ABUJA, May 22, (THEWILL) - President Goodluck Jonathan has submitted a report on the $6.8 billion fuel subsidy fraud to the Minister of Justice and Attorney General of the Federation (AGF), Muhammed Bello Adoke, who is to in turn forward it to the Economic and Financial Crimes Commission (EFCC), in a move that heightens chance that public demand for prosecution of culpable government and oil company officials will be met.
A committee of the Federal House of Representatives had in April conducted a probe into the management of fuel subsidy regime, its final report indicting some oil marketers and officials of the Petroleum Products Pricing and Regulatory Agency (PPPRA) and the Nigeria National Petroleum Corporation (NNPC). It called for their prosecution while civil society groups demanded the sack of oil minister, Diezani Alison-Madueke and other heads of the Corporation.
"Mr. President has just handed over a copy of the House of Representative's probe panel report on oil subsidy to me now, with instruction that I should hand it over to the EFCC for a thorough job immediately," Adoke, said on Tuesday at the presidential villa. "Mr. President instructed me to tell the EFCC that there must be no sacred cow and that they must do their job on the report thoroughly without sparing anybody indicted."
Alison-Madueke is reported to be overseeing EFCC's reported probe into a fraud that has indicted her company, prompting diplomats and industry pundits to dispel the exercise with a wave of the hand, citing conflict of interests.
Among the recommendations of the House committee's probe is the prosecution of 17 oil marketers who did not obtain FOREX but claimed to have imported petroleum products, 15 marketers who obtained FOREX but did not import petroleum products, 71 oil marketers who are to refund N230.1b and 18 oil marketers who committed other sundry infractions.
The report also revealed the 'disappearance' of 3.171billion litres of petrol, which had been allegedly supplied to the Nigerian market. It recommended the probe and trial of erstwhile PPPRA executive secretaries, A. Ibikunle and Goddu Egbuji; as well as the reprimand of former PPPRA chairman, Ahmadu Ali — a former chairman of President Jonathan's ruling Peoples Democratic party (PDP) — and other board members.