Niger Assembly Impeaches Six-Day-Old Speaker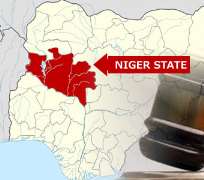 MINNA, May 22, (THEWILL) - The confusion that has recently gripped the Niger State House of Assembly continued on Monday with the impeachment of the speaker, Honourable Isah Kawo, in a move that means the Assembly has had three different speakers in just one week.
Isah Kawo — who was sworn-in last Tuesday following the impeachment of then speaker, Mohammed Tsowa Gammunu — was himself impeached on Monday, after 21 members supported a vote of no confidence passed on him.
The impeachment motion was moved by Honourable Andrew Doma, representing Shiroro, and was supported by Abass Wazire, representing Magama. Kawu's impeachment was swift as only three members opposed the passage of the vote of no confidence.
Hon. Adamu Usman was immediately elected and sworn in, in his place, by the Clerk of the House.
Gammunu, Kawo's predecessor had been impeached last Tuesday for incompetence, following a motion from Hon. Bashir Loko Goma, representing Wushishi constituency, under matters of urgent public importance.
Gamunu's impeachment also consumed Ahmed Bello, the deputy speaker; Mohammad Dada, the majority leader; and Sa'adatu Kolo, the chief whip. In their place came
Isa Kawu, as speaker; Abdulrahman Gambo, as deputy speaker; Yusuf Kure, as majority leader; and Alhaji Nazeer Abdullahi, as chief whip.
The coming weeks is likely to enthrone a tug of war at the speakership of the Assembly as erstwhile speaker, Gamunu, has already instituted a suit against now former speaker, Isa Kawu, and 19 others at a Minna High Court, seeking to restrain Kawu from performing the duties of the office pending the conclusion of the case to determine the legality of his impeachment.