Dead End For FG/States Peace Talks On Sovereign Wealth Fund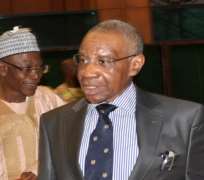 SAN FRANCISCO, May 21, (THEWILL) - Peace talks between the federal government and the 36 states of the federation on transfer of funds from the Excess Crude Account (ECA) to the Sovereign Wealth Fund (SWF) have clearly broken down, following Monday's decision of the Supreme Court, headed by the Chief Justice of Nigeria (CJN), Justice Dahiru Musdapher, to fix September 25 for definite hearing on the suit filed by the states.
The states are contesting the legality of ECA as well as federal government's transfer of $1 billion from the account to the SWF.
Hearing of the suit had been stalled by a string of federal government-initiated adjournments on the possibility of settling the matter with the states out of court.
Rather than produce a final report of peaceful resolution, the parties were in court to accuse each other of foiling the peace talks.
As the plaintiffs accused the federal government of further withdrawing from the account while an amicable resolution was supposed to be underway, the attorney- general of the federation (AGF) and minister of justice, Mohammed Adoke (SAN), who was represented by Mr. Austin Alegeh (SAN), claimed that the deductions had always been at the instance of the states.
Lead counsel of the plaintiffs, Chief Adegboyega Awomolo (SAN) told the court that Adoke had failed to create the enabling atmosphere for discussions albeit the states had already presented their terms of settlement.
He prayed the court for an order restraining the federal government from further spending from the ECA, saying that the accountant-general of federation had threatened, last week, to withdraw another N2 billion from the account.
He then requested for a date for definite hearing, praying the court for an order to maintain status quo ante pending the determination of the suit.
Alegeh, in his response, argued that he had filed an application challenging the jurisdiction of the court to entertain the suit. He prayed the court to compel the plaintiffs to sign an undertaking not to seek any fund from the federal government until the resolution of the suit.