Barclays To Sell $6.1 Billion Blackrock Stake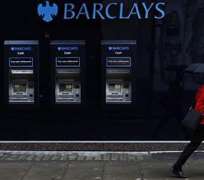 British bank Barclays is selling its near-20 percent stake in U.S. asset manager BlackRock, worth $6.1 billion, as tougher global regulations have cut the attraction of such holdings.
Barclays has held the stake for almost three years, a legacy of BlackRock's $13.5 billion purchase of Barclays Global Investors, but Basel III regulations mean banks have to hold more capital against minority stakes in asset managers and other firms, making it less profitable.
"All this is just showing how difficult it is for banks to make a profit and sufficient RoE (return on equity) in the new regulatory environment. They are deleveraging or pursuing transactions like this to improve capital ratios," said Richard Barfield, a director at PricewaterhouseCoopers.
Barclays said the shares would be sold by way of an offering and a related buyback by BlackRock of up to $1 billion of the stock. Bookbuilding was expected to take a couple of days before the price of the share sale is finalized, possibly on Wednesday, bankers said.
Barclays holds BlackRock common stock and convertible stock representing a 19.6 percent economic interest in the firm, equivalent to about 35.2 million shares.
BlackRock bought BGI in a cash and share deal in June 2009, making it the world's largest money manager, almost doubling its size. It was seen as a good deal for Barclays, giving it a much-needed capital boost at a time when all banks were under strain.
The deal also left BlackRock as one of the biggest shareholders in Barclays, with a 7.1 percent stake. Barclays said the future of that holding was a matter for BlackRock, and BlackRock declined to comment.
Barclays Capital, Morgan Stanley and Bank of America Merrill Lynch are joint bookrunners for the offer. A prospectus was filed by BlackRock on Monday.
BlackRock shares closed last Friday at $171.91.
Barclays shares were up 1.5 percent at 178.7 pence by 1200 GMT, outperforming a flat European bank sector index.
"The question was always would they sell ahead of Basel III fully coming in, so there's a logic to it," said Mike Trippitt, analyst at Oriel Securities in London.
Barclays did not say what it would do with the cash.
WRITEDOWN ON VALUE
New York-based BlackRock, founded more than 20 years ago as a one-room bond investment firm, grew to become the largest publicly traded asset manager through a series of acquisitions, led by Chairman and CEO Laurence Fink.
It bought BGI after sidestepping the toxic assets that laid low many competitors in the financial crisis, particularly attracted by its exchange-traded funds arm. It now has $3.7 trillion of assets under management.
BlackRock shares were near $182 at the time of the BGI deal and rallied over $220 in early 2010, but have since fallen back.
Barclays last year wrote down the value of its stake by 1.8 billion pounds to 3.4 billion pounds, or $5.5 billion.
The decision to sell by Barclays Chief Executive Bob Diamond is part of his attempt to get RoE back above 13 percent, partly by selling or closing down areas or investments that do not measure up.
Other banks have sold asset management businesses in recent years or are trying to do so, including Rabobank selling its Robeco funds unit, and there are sales underway at Deutsche Bank and Dexia.
"From a regulatory capital perspective, we could see more banks selling parts of their business to improve available capital resources," PwC's Barfield said.
Diamond is a director at BlackRock, and Barclays is expected to lose that position. Former Barclays CEO John Varley is also a director.
REUTERS