CHELSEA VICTORY: PASTOR TB JOSHUA & THE POWER OF PROPHETIC UTTERANCES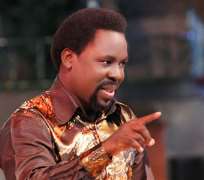 The scripture is very explicit when it says in 1 Thessalonians 5:20: ''Do not treat prophecies with contempt.'' The gift of prophecy edifies, exhorts, and comforts (I Corinthians 14:3); helps us build up or strengthen; and should lead us to the word of God. It is the ministry of the Holy Spirit to convict of sin, of righteousness, and of judgment to come (John 16:8-11). Moreover, prophecy is divinely inspired and anointed utterance; a supernatural proclamation in a known language. It is the manifestation of the Spirit of God, not of intellect (I Corinthians 12:7), and it may be possessed and operated by all who have the infilling of the Holy Spirit (I Corinthians 14:31) Intellect, faith, and will are operative in this gift, but its exercise is not intellectually based. It is calling forth words from the Spirit of God.
Amazingly in early May 2012, Nigerian prophet, Pastor Temitope Balogun Joshua, founding leader of Synagogue of All Nations church (an indigene of Akoko, Ondo State ), prophesied that English Giants Chelsea will lift 2012 year's UEFA Champions league trophy. The world as a whole was awe-struck when the prophecy came to pass on Saturday May 19, 2012. It would be recalled that this prophecy came at a period when millions of football fans in the world never imagined that pendulum of victory will ever swing in favour of Chelsea Football Club. Retrospectively Pastor, T.B Joshua accurately prophesied Zambia's victory in the African Cup of Nations and Didier Drogba's shocking penalty miss. He further prophesied that after the sacking of Portuguese Manager Andre Villas-Boas that Chelsea will play in the finals, and if John Terry does not play the final, Chelsea will win- pointing that there is a bad luck hanging on the head of the team captain, being consequence of his allege affairs with the wife of Wayne Bridge.
Besides, he also prophesied the death of Malawi President, death of pop king Michael Jackson, the tragic death of DIG Haruna in an air mishap, the victory of Zambia at the AFCON and the largest protest ever in Nigeria since 1993, where Nigerians occupied cities protesting against the removal of petroleum subsidy on fuel in January, 2012. These are just few out of his many prophecies that are devoid of deceptions. No doubt it is worthy to appreciate God for the humility and success of the founder of Synagogue of All Nations church. Beyond what people can ever comprehend especially cynics and vituperative critics. In few years, the church has phenomenally grown to a standardized international ministry making world-wide impact, for soul winning, miracles, bible teachings, salvation for human kind, and publications of numerous Christian literature that aid spiritual growth, among other things.
In every nooks and crannies of the world, the positive impacts of the man of God have often remained a landmark experience. He preaches Jesus and the Holy Spirit as though they live together. Since the debut of his TV programme, the ministry has remained on the cutting edge platform, pioneering new ways of doing things in Christendom that has become the envy of long established television stations. It has the largest Christian television network in Africa, and with its satellite station, it is arguably reaching out to over a quarter of the world's population.
Aside miracle healing, Pastor TB Joshua has ostensibly been seen to mean many things to different people. To some, they see him to be controversial, some call him a philanthropist and to others, he is 'mysterious'. But men should however beware not to malign or speak foul of the anointed men, as God cuts off his overwhelming grace from those who blasphemes. People sometimes think that "prophecy" means to predict (foretell) what will happen in the future. Actually, the simple gift of prophecy is essentially forth-telling; it is a ministry to make people better and more useful and attain their set objectives to the glory of the living God.
Written By Emmanuel Ajibulu
[email protected]

Disclaimer:

"The views/contents expressed in this article are the sole responsibility of

thewillnigeria.com

and do not necessarily reflect those of The Nigerian Voice. The Nigerian Voice will not be responsible or liable for any inaccurate or incorrect statements contained in this article."
Articles by thewillnigeria.com