Baby born with Qur'an moves to father's mansion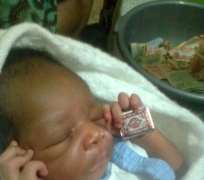 •Reunites parents Feuding parents of the Nigerian baby boy born with Holy Qur'an have reunited and agreed to live together as husband and wife, follow-ing incredible circum-stances surrounding the birth of their baby. The baby, who was named Abdulwahab at a grand eight- day naming ceremony on Monday at Olateju area of Mushin in Lagos, is now in his fa-ther's mansion at Surulere area of Lagos. According to sources, Abdulwahab and his moth-er moved from their for-mer resident at Number 1, Sonde Street in Ijeshatedo area of the state on Tues-day on his father's request. The parents, Alhaji Ab-dulahi Irawo and Kikelo-mo, had reportedly fallen out with each other and abruptly severed their rela-tionship after the latter be-came pregnant and turned down all alleged sugges-tions by her lover to termi-nate the pregnancy. Kikelomo, a cosmetolo-gist by profession, had reportedly claimed that she was abandoned by her Irawo who denied respon-sibility for the pregnancy and encouraged her to abort it.

But the couple has now been reunited by their baby, who has brought them fame and drawn sud-den attention to them from within and outside Nigeria in the last two weeks.

The duo had sat down officially as husband and wife at the grand Islamic naming held in Lagos, even as they pledged to the of-ficiating Islamic clerics and in the presence of top dignitaries gathered at the occasion that they would henceforth live together with their baby as husband and wife.

Abdulwahab's new home is a massive unpaint-ed duplex which, according to sources, was completed just a few months ago. Popularly known as Ak-ogun Villa, the house con-spicuously stands out on Aderibigbe Street, Masha Kilo in Surulere area of Lagos State.When Saturday Mir-ror visited the baby's new home yesterday, his father, a Lagos chief, was not at home.

His younger brother, Mr. Abdul Irawo, however denied our reporter access to the mother and the baby, saying he would do no such without the permission of his brother, the father of the baby.

"I am the baby's father's younger brother. The baby and his mother are upstairs but you can't see them now because I am not in the posi-tion to allow you in. It is my brother who is the father of the baby and the owner of this house, who can do that. You can come back later," Mr. Irawo stated.

He however expressed the family's joy in having such a child, describing him as a divine gift from God."We are all happy about the development and that is why we have accepted the mother. The boy is a di-vine gift to all of us and we are grateful to Almighty Allah who made such a great child to come to our family," he said.

He also disclosed that the house has played host to different kinds of digni-taries, including govern-ment officials and top Is-lamic clerics since the baby was moved to the mansion on Tuesday.
>

Click the link below to go to...
Baby Boy Born With Quran In Lagos, Nigeria [MORE PICTURES]
Photo: Toni Payne Poses With 9ice's Pregnancy?
Me & Akon How it started, I don't have anything against tattoos and piercings -Rukky Sanda
I Am Not Dead But Alive**Mr Latin Tells Nollywoodgists.com [AUDIO]