Doctors' Sack Was To Protect Public Service, Says HOS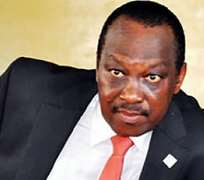 LAGOS, May 19, (THEWILL) – The Lagos State Government has again justified its sack of 788 doctors as well as the hiring of new doctors, saying the public service needed workers who would not abandon their duties to proceed on an illegal industrial action.
It urged the Nigeria Medical Association (NMA) to desist from spreading falsehoods against the government, maintaining that the NMA's right to industrial action did not extend to leaving office without serving the government any notice.
"The decision of the doctors, under the Medical Guild, to abandon the hospitals without the notice stipulated by law caught government by surprise and led to many deaths," a press statement signed by the Head of Service, Prince Adesegun Ogunlewe, argued. "No responsible government will tolerate that …. In other climes medical doctors would have had to deal with criminal suits from patients for abandoning them without any lawful justification."
Prince Ogunlewe insisted that the sack of the doctors was occasioned by the need to halt the deaths and sufferings of the people in public hospitals, and to protect the public service and ensure that illegalities do not thrive in the system.
He also disclosed that governor of the state, Babatunde Fashola would not overturn the decision to sack the doctors, which was made by the Health Service Commission.
"The Governor told the doctors that it would amount to a breach of procedure to overrule the Health Services Commission and the Lagos University Teaching Hospital Board by executive fiat," Ogunlewe said. "If we are talking about the need to build and respect institutions, then it's wrong to expect the governor to just overrule an institution like that."
Continuing, he said that there is an established procedure through which the doctors were recruited, queried and sanctioned.
"The same established procedure has a process for appealing, and the best path to a resolution of the situation is for the sacked doctors to seek recourse to the procedure rather than to embark on cheap blackmail or outright misinformation.
"No amount of name calling or threats will distract the state government from its objective of restoring normalcy to the health sector as a soon as possible."
Despite Ogunlewe's defence of the sack and the fresh employment, the heat is likely to be turned on the government in the coming weeks, with Friday's decision by doctors in federal government hospitals, to embark on a solidarity strike with their state colleagues.
"We view the attitude of the government as an insult on doctors, the medical profession and patients," president of the Association of Resident Doctors (ARD) with the Lagos University Teaching Hospital (LUTH), Dr. Adetunji Adenekan, announced in a news conference. "The government's actions have only served to worsen the workload and pressure on other working doctors and hospitals. By sacking a total of 788 doctors, the state has succeeded in increasing the patients-doctors ratio to 50,000 to one."