Zamfara Governor Threatens To Sack Striking Workers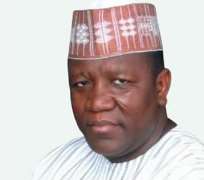 GUSAU, May 19, (THEWILL) - In a move that appears to be modelled after the Lagos State Government's treatment of its doctors, workers in Zamfara State who are currently on an indefinite industrial action to protest the government's refusal to implement the N18,000 minimum wage for workers have been told to resume work on Monday or face mass sack.
Governor of the state, Abdul'aziz Yari Abubakar gave the order at the weekly weekend preaching session held at Eid Ground in Gusau, saying that his government could not afford to pay the new minimum wage because its funds are insufficient to implement it.
Yari Abubakar noted that implementing the new wage policy at the state level would be to the detriment of the over 3,000,000 indigenes of the state.
"The administration has been able to pay a minimum salary of N18,000 to junior workers in the state Civil Service, but cannot apply the new salary scale to other category of workers in the state," he said. The present administration has been spending N1.333billion on salary of workers every month, as against the N838million being paid as salary before the implementation of the new wage to junior workers."
He added that his government had been expending N1.7billion on recurrent expenditure, including monthly MDAs cash allocations; and then warned the workers to resume work on Monday and ensure they sign the daily special register or they would be sacked.
"Any worker who refuses to be on duty will risk losing this month's salary," he threatened. "Let me state it categorically that I cannot pay N18,000, as approved by the federal government to all categories of workers."