We Must Transform Nigeria, Jonathan Urges Leaders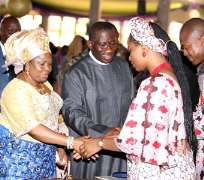 SAN FRANCISCO, May 18, (THEWILL) - President Goodluck Ebele Jonathan on Friday urged the current crop of leaders to give their all for the task of making the country better.
The President spoke during the funeral service for Chief (Mrs.) Theresa Ekpeluchi Chime, the mother of Enugu State governor, Sullivan Chime, which held at Saint Mary's Pro-Cathedral Catholic Church, Udi, Enugu State.
Jonathan warned against playing politics with the destiny of the nation, saying "all of us must assess our journey since independence and change the country rather than thinking of escaping abroad."
The president commended the exemplary life of late Mrs. Chime and the good upbringing she gave her children, describing the deceased as "a leader in so many respects," while decrying the current trend of "children losing motherly or fatherly touch due to so-called busy schedule in business or politics." He urged Nigerians to emulate the virtues of love, care and kindness embodied in the late Mrs. Chime.
Governor Chime, in his remarks, thanked President Jonathan for attending the burial service along with the First Lady, Dame Patience Jonathan in spite of their busy schedules.
He urged Nigerians to support President Jonathan and pray that God will give him the "wisdom and courage" to take bold steps in his running of the country.
Reverend Nnamdi Nwankwo, in his sermon, noted that the deceased "taught us how to live and die," recalling her life, which she devoted to service of mankind and God. "She was a symbol of love, transparency and accountability," he added.
The preacher also deplored the poor state of social infrastructure and corruption in the country, calling for "conscientious reformation and not revolution."
National Chairman of the Peoples Democratic Party (PDP); governors of Anambra, Benue, Cross River, Abia and Akwa Ibom States; ministers and National Assembly members were some of dignitaries who attended the church service.