NOTHING LEFT BUT GOD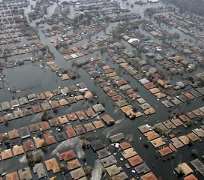 "Katrina destroyed life as I knew it. Now I'm discovering what it really means to depend on Christ for everything". This is the story of how Gwen Williams responded to the incident of Katrina and inspired her to ministry to people who have lost everything in crises or disaster. I believed the words of the old gospel hymn, "Long As I Got King Jesus, I Don't Need Nobody Else." But as my brother James and I drove through my deserted neighborhood in the Ninth Ward of New Orleans, I longed for the presence of other human beings. I longed to see the faces of the children playing in the park, or even the noise of gangsta-rap music blaring from the street corner. The eerie silence frightened me more than the drug dealers that used to hang out in the neighborhood. Everything and everybody was gone. Not a creature was stirring, except those that you viewed under a microscope. The aroma of shrimp po'boys and red beans and rice had been replaced by the stench of rot and decay. This area I had called home for nearly 30 years was now a desolate place with nothing left but God. Katrina had flushed everything away but the Lord Himself.
This place of Nothing Left But God left me overwhelmed. My stubborn, independent personality was not comfortable here, where I was alone by fate rather than by choice. My trembling voice uttered no words of praise or thankfulness. I, too, was silent. The "whys" and "how comes" found their way to the Master's ears, but the silence remained. I gasped as James parked my car in front of what I lovingly called my "shacky shack." There was dried mud on the sidewalks where dead plants formed a ring around my house. On the front porch, police graffiti and my soggy welcome mat greeted me. I took my last breath of almost-fresh air and followed my brother inside.
James tried to shield me from the devastation. My beautiful home was now a mess beyond repair. There must be something salvageable, I thought before entering. But I was wrong. It was as if a giant had picked up my house and shaken it like a tambourine to Katrina's beat. I held on to my brother as we made our way through the black muck. My Bibles, books, and tapes were strewn across the floors in ruin. All the material things I had held dear were gone. Still, I had to believe that in all this mess was a miracle from God. If I didn't have that hope, I would've surely gone crazy.
"All the material things I had held dear were gone. Still, I had to believe that in all this mess was a miracle from God."
A muddy bouquet: The only piece of furniture standing in my little shacky shack was my computer desk. The top shelf held a picture of my dad and several angel figurines given to me by my kids. Through the flood of memories, I sensed God reassuring my spirit that everything would be all right. I grabbed my dad's picture and all the angels. I found a basket to put them in. As I turned to walk away, I noticed the plastic box with all my important papers untouched by the waters. Words of praise and thanks flowed from my heart. My brother said we needed to get out because of the toxic waste and black mold we were breathing. I agreed. But as we reached the front door, I noticed the table with my precious African American figurines still intact. On that table was a bouquet of roses made of two-dollar bills my mom gave me for my fiftieth birthday. I grabbed the figurines and the now-blackened bouquet, and then took a final look at my home. I knew I'd never live there again. Soon the men from disaster relief would come and pile 30 years of my life on the sidewalk for the garbage trucks. My favorite chair, where I spent hours studying God's Word and praying for my kids, was gone. My personal journals, which held the emotions of my heart, were gone. Everything was gone.
A clean slate: Touring my deserted neighborhood gave me a pain in my heart for the many who never escaped or for those who would never come back. As we turned down Franklin Avenue where my church stood, the parking lot, which overflowed with cars on Sunday mornings, was eerily vacant. There was nothing there but the same black mold that greeted us everywhere. I saw the water line that circled my beautiful church building and tears filled my eyes. It, too, was ruined. As we drove past, I realized again we had nothing left but God. Not only was my church gone, every church in the city was damaged or destroyed by the floodwaters. Ironically, many of the bars and strip joints in the French Quarter were open for business. There was no place open to praise God, but plenty of places to drink and have a good time. I imagined Satan's laughter. Was he thinking he'd won a battle against God's children? Then God's Spirit assured me this battle was just beginning. In my heart I knew God was preaching a message to His people. Before Katrina, New Orleans was a sick city.
Sin, poverty, and corruption had taken its toll on our neighborhoods, our schools, even our churches. Now, in a sense, we had a clean slate. Perhaps God took all of us out of the city in order to bring a few of us back to do His work. God does not need mega-buildings to get His message out. He needs people who will be obedient to His Word. He needs people who are willing to give everything so that others may come to know Jesus.
I wanted to be counted among those people. Like Isaiah, my heart cried out: "Here I am, Lord …" (Isa. 6:8). I am among the remnant of believers who will return to New Orleans with nothing but God. He took everything away so that I would have nothing left to depend upon but Him. Amid the upheaval, I made an amazing discovery: When there is nothing left but God, He is enough. He is all you need to start over again. What a foundation to build upon! God is all you need for every need. Stay close to Him, and the material concerns will take care of themselves. After Katrina, Gwen lived with family in Alexandria, Louisiana, before returning to the Gulf Coast this year. She now lives in Picayune, Mississippi, and does outreach ministry in New Orleans through her church and several mission centers. Are you going similar experience? In this story you can trust God to give you strength and grace to overcome the crises or disaster and become a role model and ministry to such persons in need. Have question you may call: 08033399821 or write: [email protected] Stay blessed.
Written By Dr. Lewis Akpogena

Disclaimer:

"The views/contents expressed in this article are the sole responsibility of

thewillnigeria.com

and do not necessarily reflect those of The Nigerian Voice. The Nigerian Voice will not be responsible or liable for any inaccurate or incorrect statements contained in this article."
Articles by thewillnigeria.com