Chevron Must Pay $3b Fine For Gas Explosion, FG Insists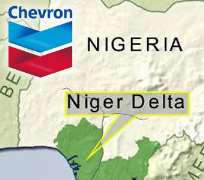 ABUJA, May 17, (THEWILL) - Director-General/Chief Executive Officer of the National Oil Spill Detection and Response Agency (NOSDRA), Peter Idabor, on Thursday insisted that Chevron must pay an administrative fine of $3bn to the federal government for the environmental disaster that accompanied the gas explosion in some communities in Bayelsa State.
Idabor made the disclosure on Thursday before the House Committee on Environment, recalling the loss of hunting and fishing grounds, particularly in Koluama, a nearby settlement, and other neighbouring communities.
"The gas that erupted from the subsurface sustained the fire that raged for days," he said. "The Agency has investigated the incident: the fire was caused by equipment failure. Chevron is to take responsibility for the millions of cubic feet of gas blown into the air."
He explained that due to the nature of the gaseous substance, it was very difficult to assess the level of damage, as the terrain was in constant flux.
"Our perspective is that the environment is in a state of flux and impacted on the people, and they had to travel far to catch fish.
"The $3bn administrative fine will go to the federal government; and the federal government will determine how to distribute it to rehabilitate the affected communities. We're tired of oil companies polluting our environment."
But chairman of the committee, Hon. Uche Ekwunife has said that the committee will take its time to deliberate on the $3bn fine proposed by NOSDRA, and communicate its decision to Chevron at a later date.
The session, however, turned sour as former Senator, Gbenga Aluko, who is the director of governmental affairs at Chevron, and a member of the committee, Hon. Robinson Uwa, were embroiled in a war of words.
Aluko, feeling that Uwa had been unfair to Chevron during the questioning session, had approached him at the end of the session to explain some issues, but it ended in a quarrel.
"You are very disrespectful," the Senator told Uwa, who had made an uncomplimentary remark. "I am not your agemate and I have been a senior member of this National Assembly."
"You people think because you earn fat salaries, you can come here and intimidate us? Get away!" Uwa responded.
An infuriated Aluko rushed in Uwa's direction, but he was stopped by Ekwunife, who quickly intervened and restored calm.