POWER BELONGS TO GOD, SAYS JERRY USENI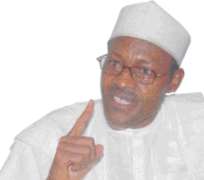 Buhari
The Arewa Consultative Forum (ACF) at the end of a consultative meeting with President Goodluck Jonathan has agreed to back the Federal Government to crush the activities of Boko Haram.
The leader of the delegation and chairman of ACF, Lt. Gen. Jeremiah Useni, when cornered by State House correspondents to react to comments credited to former head of state, Maj. Gen. Muhammadu Buhari that there would be bloodletting in 2015 if elections were rigged, said: 'Power belongs to God and He determines what happens to our future anytime.'
He said the group was at the Presidential Villa to advise the government as the only recognised group speaking for the North.'We came here to advise the government. We always advise the government, we represent the North; we are a very strong group.' On Boko Haram activities, Useni expressed happiness with government's willingness to dialogue with the group.
'The happiness is that the Federal Government has agreed to dialogue with the group. It's not a new thing even when you are fighting with somebody you have to sit down one day to talk.' He also reacted to Buhari's comment, he said, 'I cannot speak for them. I don't know why they said so. God determines everything. God determines even our tomorrow, even our tonight.' On the war of words going on between government, Congress for Progress Change (CPC) and Buhari, Useni said nothing showed that there was war going on but only disagreements.
'I don't think there is any war going on. If you say anything and I disagree with you, it does not mean we are fighting; we are not fighting anybody.' Speaking to newsmen on what transpired at the meeting, the Special Adviser on Media and Publicity, Dr. Reuben Abati said the ACF pledged to back the Federal Government against Boko Haram. He said the ACF elders informed President Jonathan that they had already taken actions by setting up a committee on the issue and would make the report available to government on completion of findings.
He said the government team, led by President Jonathan, assured that its doors were always open for consultation and was ready to work with them to stem insecurity and other issues, affecting the country.