DIAMOND HELIX GETS MDCN LICENSE TO CONDUCT CONTINUING MEDICAL EDUCATION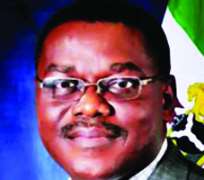 Prof. Onyebuchi Chukwu
Diamond Helix Medical Assistance Ltd, a health consultancy firm whose core business is changing the dynamics of health care service delivery in the country has been licensed to conduct Continuous Medical Education (CME) programmes for medical practioners in Nigeria.
The licensing came following the inspection of their facility and programmes by the Medical and Dental Council of Nigeria (MDCN). In his report, following the inspection, the Assistant registrar, Dr Nnaemeka Nwakanma stated the pleasure of the council to approve the license to Diamond Helix Medical Assistance and hoped that others can follow the examples of Diamond Helix.
Briefing the press after the license approval, a very elated Dr Ufuoma Okotete, the Managing Director of Diamond Helix Medical Assistance Ltd stated, that 'we are very happy with this approval as it will help us to achieve our goals of giving medical practioners in Nigeria qualitative continuous trainings that will help redefine the Nigerian Healthcare landscape.
'The medical industry is in constant evolution and our doctors should be abreast and upbeat about the recent developments. She further stated, the difference between our CMEs and others is that the doctors do not just get awarded the needed credits for their license renewal, the CMES afford them the opportunity to earn international certifications as our programmes lead to Executive Diplomas and Certificate programmes in recognized Health Institutes in Europe and the USA '.
Providing further information, Executive Director, Trainings and Programme Development, Diamond Helix Medical Assistance, Dr Vivian Mbaba, said'we have very structured programmes that will enhance personal and professional development for doctors and other medical professionals, tailored to suit the need and consumption of professionals in the health regulatory agencies and ministries, Health boards, doctors in private and public practice.
Intermittently in our calendar will be boot camps and other professional development programmes in partnership with our partners abroad facilitating these trainings, ensuring that our participants get the best value for their monies and time away from daily practice.
The Continuous Medical Education from Diamond Helix Medical Assistance has its focus on Healthcare Management, and the first batch commences in May starting from Lagos , and then sopread acroos the six geopolitical zones in the country .