STOP COMPLAINING ABOUT PITCHES, LAWAL TELLS KESHI, PLAYERS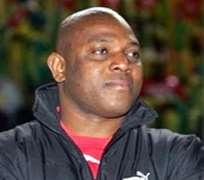 Ex-international, Garba Lawal, has argued that considering the playing career experience of most Nigerian footballers, the hullabaloo about artificial pitches in most Nigerian stadia ought not be an issue of serious concern, reminding the Super Eagles players and the head coach, Stephen Keshi, that they were products of street football.
The Eagles' former utility player, speaking with Daily Sunsports in an exclusive interview during the Copa Coca-Cola zonal competition held in Abuja last weekend, contended that since artificial turf was fast becoming the trend in most African stadia, the players and technical crew should complain less and concentrate on winning their games.
'The issue of artificial turf or poor state of the pitches didn't generate this concern during our playing days. We even played in all kinds of pitches provided. They should not forget that most of us played barefooted on the streets at the initial stages of our career.
'The issue of pitches should be a secondary concern to them because in our days, we play and win matches before complaining about the pitch. This style of raising alarm about pitches even before they play the game is un-Nigerian.
'If they should continue to express concern over the pitches in Nigeria, what would they do if the host countries don't have natural grass? Would the players and technical crew refuse to play on the pitch their host provides?' he argued.
Chindo, as fans and acquaintances fondly him, told the players and technical crew that Nigerians expect so much from them, especially as their ranking by the world football governing body, FIFA, has continued on a downward trend, reminding them that Nigerians would hold them responsible for their actions and inactions.
'The players should know that every game is very crucial but difficult now especially if the Super Eagles is involved. Every African country we previously call minor wants to prove a point playing against Nigeria. The players must regard every game as World Cup final and throw everything into it,' he advised.
Speaking further, Lawal noted: 'The players should know that Nigerians were becoming very uncomfortable with our fall in FIFA ranking. They must not look down on any country notwithstanding their rating. We have to appreciate in our ranking from the lamentable position we are now and reclaim the position we should be as a great football playing nation,' he charged.