Cabinet Reshuffle: Mr President, stop lying please!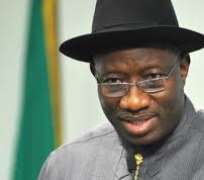 "Courage is the first of the human qualities because it is the quality which guarantees all the others"-Winston Churchill
My father is a strict disciplinarian. He once told me of his wish to join the armed forces but his height disqualified him. The man never tolerated the use of English language in the home. I always wondered the reason(s) behind such doctrinaire in view of the fact that what obtained at the household of my friends was the opposite. As I approached adulthood, I found out the rationale. Daddy wanted his children to be fluent in his native tongue; to at an early age, learn the richness of African culture and tradition and the most curious of all; to forestall disrespecting him under the guise of speaking the colonial masters' parlance.
The title of this article is rude. I know. Bringing the office of the president to disrepute is one thing I would never do. Besides, our custom forbids dishonoring the elders. I hold Mr Jonathan in high esteem. He is a man who against all odds became our leader. His can-do spirit is a big lesson to everyone especially the youths that we can dare to win; that we can fulfill our dreams only if we believe in ourselves. Nonetheless, that do not mean I cannot criticize him. It is not a sin to think of a pundit as messenger of a paymaster or a group of persons. But then I am not, neither do I seek a cabinet appointment-a tall order for a 26 year-old. For me writing is a hobby and commenting on national issues is what I term 'private social responsibility'.
Politics is a dirty game in this clime and unfortunately, I love it. I got fully involved by virtue of my days in students' movement and was in fact elected the Students' Union Social Director at Tai Solarin University of Education. Even at that level, one could see undergraduates carry on as though they are under demon sway of sort; sustained horse-trading, deceit, backstabbing, physical assault, tussle inter alia. Just recently, I learnt one more (bizarre) lesson about politics. It is revealed in the following paragraph.
I had the opportunity of being part of an audience that watched a drama production presented by students of Theatre Arts department, Nasarawa State University. The play reenacted the account of events from the Abacha era to the botched third term episode of Baba Obj. I particularly enjoyed the performance of five characters:
1.) The egoistic military rouge; a sadistic colossus that ad infinitum looted the treasury, attempted to forcibly replace his khaki with agbada but was killed after an apple bite.
2.) The gap-toothed kingmaker who was an active part of picking every other ruler but was astonishingly outsmarted in the long run.
3.) The errand assistant who in appreciation of his loyalty was selected to govern his state but was threw out by a court tribunal in spite of allegedly dispensing a whopping amount of money to panel members.
4.) The renowned party man who fixes everything but was fixed by a super fixer.
5.) The ex-head of state who returned to the state house, globe trotted all but one nation, breached an agreement of power shift, then went ahead to pursue tenure elongation. The new lesson of politics I found out is: there is no morality.
Every incumbent president of Nigeria annually marks the inauguration day (May 29). It gradually became norm that just before or after the commemoration, the cabinet is put through a minor or major reorganization. I used to think it was normal but after two or three of such, methinks differently. Do not get me wrongly; injecting fresh capable hands into governance is laudable. It redefines quality administration and efficient service delivery. But when the motive and process is politicised, the purpose is defeated. At the present, some ministers deserve the boot and I say this without any sense of prejudice. Mentioning names will cause apprehension. But then the president knows them. I hope he is aware that thus far, his Transformation Agenda has not taken effect, save for two or three pilot schemes in youth development, oil and gas and agriculture.
Expectedly, Aso Rock has strongly refuted an impending shake-up. Presidential aides have called it a figment of imagination of mischief makers "who seem bent of frustrating the good intentions of the Federal Government to deliver on the campaign promises", the message read in part. I have the special assistant on new media, Reno Omokri, on my twitter handle (@sokrimmy), he too tweeted a denial of the "speculations".
We need not remind Oga GEJ that he is empowered by the constitution to select his team, ipso facto, what (or who) is he afraid of? As long as his decisions are in the best interest of the country and not that of a few powerful men, he should be bold in taking actions he is authorized to. Furthermore, I advise him not to take our soft spot for stupidity because he is telling another lie with reference to the cabinet change scarcely five months his officials and he swore that government was yet to decide on the fuel subsidy cut.
To reassure us of his commitment and resolve to better our lives, Mr President must do more to win back our trust he betrayed on Sunday, January 1, 2012. My commentary on the subsidy slash first published after the announcement is here reproduced.
Goodluck bids Goodwill Goodbye
On May 29, 2011, when the Goodluck administration birthed, we placed our hopes and aspirations on the cusp of a new beginning. His publicists did a wonderful job portraying him as the 'messiah' we had been anticipating. "Transformation Agenda", "Fresh Air", "New Dawn" rented the air; it were the major phrases with which he was labeled. Alas, barely 31 weeks after Mr Jonathan took oath of office, what started like a beer-parlour joke only a couple of weeks earlier finally dawned on us? We were slogged below the belt-and in the most ridiculous way too.
On January 1, 2012, the Federal Government, through the Petroleum Products Pricing Regulatory Agency in a provoking terse statement, made true its stance to cut off fuel subsidy. Consequently, premium motor spirit otherwise known as petrol will sell for #140/litre. Government is arguing that about #1 trillion spent on the subsidy will be used to finance projects that will benefit the entire citizenry; that henceforth, it will no longer finance the national budget with borrowed funds; that the cut will save the nation an imminent collapse, boost the naira and make us a more competitive player in international oil business.
However, the masses that will bear brunt of the subsidy removal are asking; why the hastiness when thus far, government has not put in place palliative measures to cushion the consequence? Rail and waterway services are still poor; power generation is at a meager 3,700MW (when the county needs at least ten 30,000MW); roads are death traps (a recent global survey on road mishap which the Federal Road Safety Corps confirmed ranks Nigeria 191 out of 192); agriculture is yet to bounce back (rice imports is worth #1 billion annually); rural development is below average; industries are folding; educational institutions are dying; huge deficit in social amenities; unemployment index stands at 32 per cent!
They also ask; where is the money the Nigerian National Petroleum Corporation claimed it made from excess crude oil sales? Rather the total cut, is it not possible government spreads the subsidy removal over two to three years so that the economy can adjust, thereby allowing the people plan ahead? Are we to pay for the trillions pocketed by the gluttonous oil industry cabal that ceaselessly defrauds the poor?
Perhaps if government had in all honesty, applied the same vigor and resilience to make our refineries work, this problem would not have come up. Only two weeks ago, it was reported by the Daily Sun and other dailies that neighbouring Ghana will by 2015 begin exportation of electricity to Nigeria and some West African states because it would by then have "excess power". Imagine the slight; I weep for my country.
The pronouncement of the cut is nothing but an ambush on the people, which if not well-managed may lead to anarchy. We were fooled to think it would take effect no sooner than April this year. We were made to believe that the open and closed-door parleys held with legislators, labour, civil society organisations, students and organised private sector will materialise. Government officials lied on national television and at several public fora with utter contempt, saying no date has been fixed for subside removal even as the president kept mute on the subject during his Dec 13, 2011 budget presentation.
If I were GEJ and had to announce such a divisive decision, I would have allowed Nigerians to at least come out of the festive mood; not the first day of a new year.
By Wale Odunsi
[email protected]
Disclaimer:

"The views/contents expressed in this article are the sole responsibility of

Wale Odunsi

and do not necessarily reflect those of The Nigerian Voice. The Nigerian Voice will not be responsible or liable for any inaccurate or incorrect statements contained in this article."
Articles by Wale Odunsi