MORE PRIVATE SECTOR LEADERS SHOULD COME INTO HEALTHCARE BUSINESS - ADEWOLE, MD, ADCEM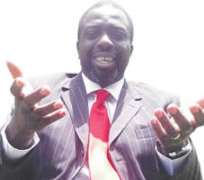 Adeyemi Adewole
With an estimated N4.5 million spent by each Nigerian patient on kidney transplant abroad, and about N282.77 billion earmarked for healthcare in the 2012 budget; there is no doubt that the business of providing dialysis centres across the country is a gold mine for die-hard entrepreneurs or business managers.
A Lagos-based indigenous company Adcem Pharmaceuticals in partnership with the MTN Foundation has taken up the challenge. They have so far provided a total of 12 haemodialysis centres across six geopolitical zones of the country. Managing Director/Chief Executive Officer of Adcem, Mr. Adeyemi Adewole, said the need for people that have chronic kidney disease to have haemodialysis 3 times a week to be alive until a transplant is carried out, is a good business opportunity to be harnessed.
In this interview with Daily Sun, Adewole shares his over 20 years' experience as a professional pharmacist, the challenges of running profitable businesses in Nigeria and the poor state of healthcare delivery in the country. Lamenting that Egypt has about 6,000 dialysis machines, while its peer Nigeria has less than 1,000; he wants private companies to emulate MTN Foundation in the drive to improve the quality of health services available to Nigerians.
Excerpts:
Why the company is in Partnership with MTN foundation
Well, the business and the idea, as well as the value proposition were to go into an area that was unique, a niche area where professionals would thrive. The pharmaceutical industry, I would say, accommodates a lot of people who are not actually professionals. So, I felt that to compete, you would have to find an area that is not saturated and that the barrier to entry would be a bit high. So we started with parental nutrition which is giving nutrition through the vessels, veins. It is a very specialized kind of pharmaceutical, not high volume, therefore not attractive, but also requires a lot of professional input.
We came across Fresenius AG Germany, the company that we still work with today. They had both pharmaceutical and medical equipment divisions, mostly specialized in kidney diseases. As the company grew very rapidly in Germany, Fresenius bought another pharmaceutical company and became Fresenius Kabi. Then the medical equipment division became Fresenius Medical Care and that is the company that manufactures Dialysis machines. We have supplied the machines to MTN Foundation and have been representing them in terms of handling.
It was of tremendous help that we have been in this business for quite a while and we are also market leaders. To go into something like this, you will consult widely. MTN probably went to hospitals and they told them know to go to Adcem and they came to us. We started to put it together and it just kept growing and growing till today.
Impact on Nigerians.
I think on their side, MTNF kept getting individual requests to intervene and they felt that dealing with individuals was not going to have as much impact as actually making something available to the general public. I must commend MTN foundation for going into this very laudable project. What they did was to situate two centres in each of the six geopolitical zones of the country in order to ensure that all Nigerians have equal access. This means that a total of 12 haemodialysis centres have been established across Nigeria. And what is available in the six geopolitical zones is practically the same for the purpose of fairness and equity.
Cost effectiveness to private hospitals
Yes! Mostly the larger hospitals do so and even for us, we went into a venture with a company and set up a stand-alone dialysis centre where we conduct training and others. So yes, there are private hospitals, especially in Lagos that can install it and cover cost.
Entrepreneurship challenges in Nigeria
Well, I would say that like everybody else, this is a challenging environment, where regardless of what type of business you are in, you have to contend with infrastructural problems. You run with generators that involve buying of diesel and so on and so forth. There is also the issue of lack of access to financing in terms of loans or in the way; for example, you open a letter of credit. In other countries, it means that you don't have to pay until a certain time. It may be 90 or 180 days.
A letter of credit in Nigeria means that you have to deposit 100 percent of the money most of the time which is not given to the manufacturer until may be transaction is completed or something. The kind of business friendly support that you basically find is not readily available here. And also there is the issue of business etiquette, which I guess, goes under strain when most people are trying to survive. Basically once you know the kind of environment you are in, I don't see a real problem in complaining about what is wrong with the system but trying to do the best one can do within the circumstances that we find ourselves.
And the second part of the question; in terms of this particular business that revolves around dialysis and so on; for a number of years as you would remember, most of the multinationals left the country. The business environment was very harsh and it coincided with the dictatorship and so on. Spending on healthcare was very low and we just kept things going and it actually occurred at some point, for a number of years, we were the only major company representing the multinationals in this business and I am happy to say that in the last decade, the awareness and spending on healthcare has tremendously increased especially in this area. So I believe the sky is the limit. There's still so much gap that we need to fill in.
Government subsidy on kidney desease
If we speak about government spending, the private sector in any country in the world always takes a cue from what government is doing. If government is not spending, I think it might be foolish for you to waste and spend. If government is spending, they are giving you confidence that the environment is conducive and therefore private investment follows. And obviously in this niche business of kidney disease, because of how relatively expensive it is you would find that most of the dialysis centres are owned by government institutions. They are within government institutions and for private institutions; it is just starting to spread more. So obviously, it is the government that is spending more.
In terms of support, I wouldn't be talking about support for myself. For example, there is the issue of what we call reimbursement. In most countries in the world where they have a successful dialysis or kidney program, the government reimburses the provider or the patient for the cost of dialysis because it is expensive, too expensive for anybody to afford even with insurance. You would have to go for haemodialysis, ideally, 3 times a week; and if it is chronic kidney disease, then that's what will keep you alive until you get a transplant.
The government actually has to intervene. From country to country, it would depend on the percentage to which government subsidizes or reimburses 80, 90 or 100. So it is a wonder that people pay out of their pockets, and a dialysis session is usually around N20, 000 upwards. If you have to do that 3 times a week and there are other drugs, investigations and so on, you can imagine what it means.
So if there was a reimbursement program, obviously, this business will boom because more people will be able to stay alive and it is a continuous thing in terms of consumables. So we are not talking about direct assistance or support for ourselves or operators, but about providing support for the industry and for patients. Right now, people just go through dialysis for a while. When the money finishes, they go and die. This is not good. It is not how it should be.
Technology transfer
Well actually, over the years, we have been able to have some kind of technology transfer and the multinational we represent is the world leader in the manufacturing of all types of equipment in kidney disease. But also they have over 3,000 dialysis clinics themselves the world over so it is not a case of just selling. They have centres set up and we always go abroad to different countries to get training. So naturally, by now we should be able to do things on our own to a very great extent. The answer is that we did not get any foreign help to implement MTNF Haemodialysis Centres. We have very well trained engineers who execute to the highest standards established by the equipment makers.
Qualities needed to run profitable business in Nigerian environment.
That's a very good question. I would say tenacity. You have to be strong because you are going to come across a lot of surprises. Your plans, a lot of times, do not go the way you envisage. So, you have to be a strong person. You have to be passionate and committed to what you are doing. I know it happens in other countries. Here as well, there will be many times that you may question yourself and wonder whether you should continue or you shouldn't. I think also, from my perspective, I don't know of other people, I think it's better to also be forthright. Do the right things. I think that it is very important anywhere in the world to have integrity. For the Nigerian space, I think basically, you need to be resilient and have tenacity.
Getting right human resources
I will speak as an entrepreneur in the small and medium scale enterprises space. I think we are the engine for growth of the country and therefore what the big corporations and governments cannot do, we fill in and therefore we provide two or three functions. One very important function is training. A lot of people who cannot get into bigger corporations need to be trained; and while in training, they have the good luck of working directly or in close proximity with the visionary who probably has worked in larger corporations.
So you find people who after acquiring the training move on to other endeavours to use what they learnt and transfer it to others. You also find that there are some people who buy into the vision and stay longer and become part of the family, so to speak. And then, there are people who you would now empower to go and become entrepreneurs too. So those three functions you have to be realistic.
Training is our major thing. We have to keep training people. People who may come in at a very low level still need formal education. We make sure that they acquire that formal education and on-the-job training. Here we only talk about roles and responsibilities. That is our focus rather than on position or nomenclature.
Getting staff to buy-in to the vision of your organization
Well, because we are medium scale enterprise, it means that the staffs have more access and are in closer proximity. Therefore, you have to lead by example. I am very hands-on here. We try to be very professional, and integrity is very important. And I realize that there is no need speaking about things and not leading in showing it. So basically, I lead by example. As I said, there will always be different categories of people. The company has a character or code. When you come in, you will either fit in, buy into it or you don't.
We do not encourage short cuts and we do not encourage behaviour that is not above board. Integrity is as important in business, as focus and roles and responsibilities. The vision is made very clear that the patient is our focus because we are in healthcare and therefore one should know what the focus is. Then everything that you do goes towards it, be it the logistics, maintenance and repair of machines, be it the training and orientation of the staff that actually use the products and equipment to the best interest of the patient. That's the way I do it.
Impact on Lagos residents
Very impactful! I think I can use Alimosho in Lagos as an example. It's been actually unbelievable because prior to MTN Foundation putting something there, there was no provision in that whole area; Alimosho Local Government and its environs. And with the coming and proximity of this centre, they are actually talking about wanting to provide services overnight and weekends and so on and so forth. Actually, in the particular case of Alimosho, they'll actually benefit from an expansion because the facilities are being used to their limit.
In terms of impact, it has been of tremendous help to the people of this area. For haemodialysis, if you can afford it, you should be doing it three times a week. So if you have to travel from Sango Ota, all the way to Yaba or Gbagada every time, it is a problem. So these facilities should be more widespread and nearer the people who will require it and don't forget one thing that when you have a treatment centre, these places are also used as centres to discover more people who may have these things. They are also used as screening points and providing awareness. So in terms of the actual treatment and awareness creation, these centres have been of tremendous impact. From time to time, MTNF actually organises these outreach events where people are screened free of charge and so I would say the impact is very tremendous.
Role model
Well, I have a role model whom I also say is my mentor but he probably does not know it. The greatest role model or mentor you can have is someone who lives and conducts his life in a certain way that inspires you. They do not necessarily need to teach you step by step. All they need to do is just show you by the way they conduct their life and so you can observe from a distance. I won't mention his name just because of the kind of person that this person is and I try to be like that as well.
That is, to be a guiding light and beacon and an example to people coming behind. After over a decade, I recently went to have a chat with him. We had met initially when I first graduated and so on. This time it was to rub minds. And basically you need to validate a lot of the steps that you have taken and the things you are thinking of. What better way than to speak to somebody who has done exactly what you are trying to do and who is still very well respected and incidentally is of the same profession? It all works out.
Adcem in the next 20 years
That's a big question that I actually thought about when this year started. We are actually in the process of transformation. People in this industry and who currently know us as Adcem Pharmaceuticals would be hearing from us as Adcem Healthcare. At the last conference of the Nigerian association of Nephrology, we actually unveiled our new logo with banners saying 'Adcem Pharmaceuticals gives birth to Adcem Healthcare'. It also follows our philosophy of trying to demonstrate our care, transforming from a product orientation to a service and care orientation and to reflect more what we do that covers most of healthcare rather than just pharmaceuticals.
So we are, I don't like to use the word rebranding, but in a transformation, awareness and rebranding phase, to be known in this industry as Adcem Healthcare. It is going to be obviously, a transition, when you are bringing a new phase to the fore. So I would rather use the word, transforming. For the next 20 years, we are picking up more partners. I didn't mention other partners that are not in haemodialysis per say. We also have Medcomp, a US company that's into Catheters, what we call vascular access, everything that you need to take blood out of and into your body in different areas of the body which we represent already.
We are already starting a new partnership with another very innovative product that promises to make our hospital environment more efficient. It is a transport system that helps to convey products and documents around hospitals and different premises. And I think it's going to be very innovative in terms of helping with our processes. Systems and processes are the things that we actually still struggle with in our environment. I am very excited about this new partnership, amongst others. Bear something in mind, you'll always find us in innovative niche areas of healthcare and related businesses.
Clamour for private profitable businesses to list on the stock exchange
I haven't thought that far right now for Adcem, but I believe that for some of these organisations it may become a bit more bureaucratic to make decisions. It may become more bureaucratic for instance to decide on Corporate Social Responsibility (CSR) projects like the one we have discussed. For starters, a wider body of shareholders may be required to decide on the organisation's choice of CSR initiatives, the scope, location, impact, viability and so on.
What do you think of the model of partnering with government on healthcare?
Wonderful! You know, I said it earlier; the private sector can also lend a helping hand to the government. I think it aligns with the way government itself is thinking. They are thinking about public-private partnerships. And I think Corporate Social Responsibility is the buzz word now in the corporate world where companies are being asked to be socially responsible and concerned as to what happens to the health and wellbeing of the people in their operating environment.
Background
I'm a pharmacist by profession. I was born in Lagos and my father was an Orthopaedic Surgeon, while my mother was a Nurse. So I grew up in a medical family. I went to primary and secondary schools in Lagos and went to Ahmadu Bello University (ABU), Zaria for my pharmacy degree.
I have also studied and worked as a Computer Programmer and specifically, as a Clinical Programmer in the United States of America which had to do with clinical trials and programming around drugs and health care. My internship, which is mandatory for all pharmacists, was done in the Federal Ministry of Health. I graduated in 1985 and had my Youth Service Corps in 1986 and in 1987 with the Nigerian Air force Makurdi. I started work at the Lagos State University Teaching Hospital as a Production Pharmacist and at the end of 1988; I went to the Republic of Zimbabwe on a contract to work with their government.
While there I worked closely with International Development Agencies including Danish Development Agency (DANIDA). I came back to the country in 1991 and started business. After a few years, I found myself in the United States of America where I pursued a Computer Programming qualification so I've had quite a mixed past. Then in 1992, I decided to focus and set up Adcem Pharmaceuticals.