Akpabio Craves Fairness In Siting Of MDG Projects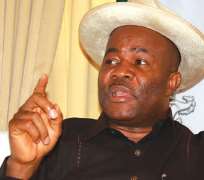 UYO, March 13, (THEWILL) - The siting of development projects in different states of the country must be fair and just if they must truly achieve their purpose of driving the realisation of Millennium Development Goals (MDGs), Akwa Ibom State governor, Godswill Akpabio has said.
Chief Akpabio made the call on Friday when the senior special adviser to the president on Millennium Development Goals (MDGs), Dr. Precious Kalamba Gbeneol paid him a courtesy call at the Governor's Lodge, Uyo.
"'I urge you to site projects, especially at the grassroots, for the viability needs of the people. Projects should not be sited on sentiments or political considerations but on their viability and sustainability," he said.
"'If fairness is introduced to your humanitarian duties, your names would be written in gold. That is what has made Akwa Ibom successful:
excessive monitoring and supervision of projects in the state. If your projects positively influence the people, they definitely would not be forgotten."
Akpabio explained that such projects as provision of free education, free medical services for children and others are designed to benefit people at the grassroots.
He also congratulated Dr. Gbeoneol on her appointment as her recent appointment as senior special adviser to the president on MDGs, expressing hope that the programme would be strengthened during her tenure.
Responding, the senior special adviser recalled that MDGs had begun partnering states since 2007, delivering high-standard projects to the poor and helping to reduce poverty, the spread of HIV/AIDS, malaria and other diseases; as well as providing water and empowering women.
Dr. Gbeoneol described MDGs as a channel for meeting the needs of people, and empowering state and local governments to prosecute their constitutional development functions. She also promised that unlike the case last year, funds for the year would be duly released in order to expedite the execution of projects.
She commended Governor Akpabio for his development strides in the Akwa Ibom, and promised that more local government areas would be selected for MDG projects in order to reduce concentration of projects within a locality.