POLICE I.G ABUBAKAR N6.43 TRILLION ECONOMIC STIMULUS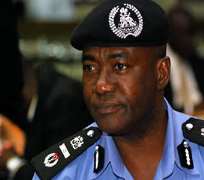 When we get the opportunity to write about good news on Nigeria, it must be seized with all candors and celebrated. The reports from all over the Country is that finally, road blocks by police are dying down. Of course there are still illegal ones here and there but as a whole, it looks like this one man is about to make a difference that we must congratulate him on. It only takes one Nigerian to lead and play his or her part.
There is no reason to repeat the history of road blocks in Nigeria that became family allowance for both the Police and the Army, tolerated by past military heads of state. This policeman was determined to stop it and when we claimed it was still going on, he stuck to his gun that it must stop. Well, it looks like it is dying out. We hear reports of illegal road blocks that were quickly dismantled and arrested by enforcement agents.
Who said we could not change Nigeria, and only God could? Well, even God uses man to accomplish his mission. Before our people tell some of us it is too early to celebrate, please forgive me. There is little to celebrate in Nigeria these days. Give us these few days to hope and pray that there are people out there willing to do what is right, not just preaching what is right. So please understand that, don't let our prayers be in vain.
Wait a minute. You mean Police road blocks have been milking N6.43T from Nigerians?
O kokomiako o! Please somebody, hold me before I faint. Some people will argue that it is more, others will ridicule it as less. Whatever, that is a lot of gari, rice and beans inside our hungry bellies. No wonder, Nigerians are getting poorer by the day. More studies have to be done to find out if that money is out of 69% of Nigerians that live in poverty.
Nevertheless, the Inspector General of Police has played his role. We must also give credit to those brave uncelebrated police officers that went to Abuja to testify that they use the money they collected at the road blocks to maintain and buy fuel for their vehicles. Police did not just get posted to road blocks, they had to grease superior officers to get there and make daily returns to these rogues in uniforms.
Well, some of them must be in depression right now while others are thinking about other ways to milk Nigerians. Many police chiefs have been defied and have failed to stop road blocks because it was so endemic, no amount of laxative could purge or kill it as it mutates like cold virus evading the best prophylactic available. But for a determined Police Chief, we thought it was going to be the same promises again.
There are reports that police have sharpened their illegal detention, abuse and beating of Nigerians. If this is as a result of elimination of road blocks or victimization as usual from those determined to give police a bad name, it must also be sorted out. If we want to turn the Police into a professional force as the number of graduates amongst them are increasing, their officers must do it out of dedication to duties.
Nigerians on the streets must be able to gain from the N6.43t economic stimulus. Danfo and okada operators must decrease their fares accordingly. That will put gari, tuwo, rice with okazi on the table. Traders will get more customers as products and services get cheaper with lower transportation cost. Even poultry and beef will be cheaper since there were many complaints from transporters from North to South about road blocks.
Some people might want to know who told this writer that the law of economics ever worked in Nigeria on supply and demand. Some of us do not even believe traders and transporters will pass on their savings to the man on the streets. There are many greedy people that will just pocket it all. Some may even use the lack of road blocks to increase fare, food, material prices and create back-road toll blocks. Haba! Not Nigerians!
Just a few years ago, Obasanjo ordered the destruction of toll gates and people were happy expecting that some savings will be passed on. They waited in vain. Indeed, some states and local governments have erected their own toll gates on old roads built since the time of old civilian government based on promises to build new toll roads. They have now created business for back roads toll collectors, in their private domain.
The story of Nigeria is: as individuals strive to make a difference, their contributions are either counterbalanced by others or evil minds that are supposed to complement them, making progress unsustainable. This is why many people throw up their hands and give up claiming we are all corrupt. Please, there are decent Nigerians out there willing to do the right thing or change their evil ways.
We must remember that the Inspector General of Police is also part of the corrupt system. But whenever one of us gets up and bolts away from a corrupt system, we must congratulate him and encourage him to greater heights. If he can accomplish the ban on road block that was so ingrained in the system, he can do more. He has to step on some powerful toes, some of whom were and are his colleagues.
There are too many unjustifiable detentions and horrible stories while detained illegally. Bribes are still changing hands and you can still go to any Police station, bribe officers to arrest and punish innocent people. But it not the reason to abandon a cop, that has risen to the top of his profession trying to set a corrupt system right. Yes, even if he was beating his chest, it was not based on promises but based on result.
This is what we need in Nigeria, accomplishments based on result not on promises.
Written By Farouk Martins Aresa

Disclaimer:

"The views/contents expressed in this article are the sole responsibility of

thewillnigeria.com

and do not necessarily reflect those of The Nigerian Voice. The Nigerian Voice will not be responsible or liable for any inaccurate or incorrect statements contained in this article."
Articles by thewillnigeria.com