EFCC Gets Approval To Charge Hembe, Ifeanyi Over Diversion Of Estacode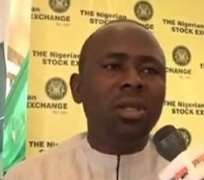 …. Their Charge Follows Revelations At The Probe Of Capital Market
SAN FRANCISCO, May 10, (THEWILL) – The Chairman of the House Of Representatives Ad hoc Committee on Capital Markets, Herman Hembe and Deputy Chairman, Azubuogo Emeka Ifeanyi will be charged on a two-count charge of diverting public funds by the Economic and Financial Crimes Commission (EFCC), THEWILL can report.
Both federal lawmakers will be docked on May 17, 2012, at the Abuja High Court.
The EFCC had Thursday approached the court presided over by Justice Abubakar Sadiq Umar for leave to prosecute the duo following the allegations made against them by the controversial Director General of the Securities and Exchange Commission (SEC), Ms. Arunmah Oteh, who accused them of pocketing funds received from SEC to enable them attend a capital market related conference in Latin America.
The EFCC has alleged that both men diverted $4,095 each for the aborted trip in October 2011.
The controversy forced the House to disband the committee that had initially set out to probe the near collapse of the capital market and in its place constituted a new ad hoc committee to complete the probe.
EFCC lead counsel in the suit, Mr. Onjefu Obe, said in court said the offence is contrary to section 308 of the Penal Code Act, Laws of the Federation of Nigeria, 2004.
The House of Representatives is yet to sanction the lawmakers for their unethical conduct.
The charges against them are as follows:

Count One

"That you, Hon Iorwase Herman Hembe sometime in October 2011 in Abuja within the Judicial Division of the High Court of the Federal Capital Territory dishonestly converted to your own use the sum of $4095 (Four thousand, Ninety Five Dollars) being money given to you by the Securities and Exchange Commission as your travelling allowance to PUNCTA CANA, Dominican Republic to attend a conference which you did not attend and thereby committed an offence contrary to section 308 of the Penal Code Act, Laws of the Federation of Nigeria (Abuja) 2004 and punishable under section 309 of the same code.

Count Two

"That you Hon. Azubogu Chris Emeka Ifeanyi sometime in October, 2011 in Abuja within the Judicial division of the High Court of the Federal Capital Territory dishonestly converted to your own use the sum of $4095 (Four thousand, Ninety Five Dollars) being money given to you by the Securities and Exchange Commission as your travelling allowance to PUNCTA CANA, Dominican Republic to attend a conference which you did not attend and thereby committed an offence contrary to section 308 of the Penal Code Act, Laws of the Federation of Nigeria (Abuja) 2004 and punishable under section 309 of the same code."