Reps Deny Receiving Proposal On Immunity Clause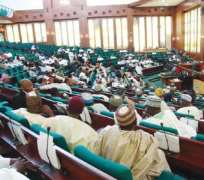 ABUJA, May 09, (THEWILL) - The Federal House of Representatives Committee on the Review of the 1999 Constitution (as amended) on Wednesday denied receiving any proposal from President Goodluck Jonathan, seeking the removal of the immunity clause for governors.
Chairman of the subcommittee on media, Hon. Eziuche Ubani made the clarification, adding that the rebuttal was necessitated by statements from the Nigeria Governors Forum (NGF) on the planned move by the president.
"This is not the first time we have had such reactions from the Governors' Forum on the likely removal of immunity from governors," he said. "There is nothing before this committee on that. We have not gotten proposals from the president, so we don't know what anybody is reacting to."
Ubani assured that the review committee would be people-oriented in considering the proposal if eventually presented.
His words, "Be that as it may, the attitude we have in this committee, and indeed the House, is that we will respond to the issues of the people. The Governors' Forum is a constituency and they also represent the people; the constitution belongs to the people and it is supposed to guide the people. What we intend to do is to respond to the bigger sentiments of the people of Nigeria and not basically any group.
"The president will have to send a proposal to the National Assembly. I think we can speak very specifically on those when the time comes. As it is, there is nothing before us."
On the volatile subject of creation of states and request for constitutional listing of new Local Government Areas (LGAs) created in some states, the review committee confirmed receipt of a deluge of such proposals, Ubani assuring on due consideration of all requests.
"We are driven by proposals before us. If in the course of our work, we receive proposals for the listing of those local government areas, we will indeed consider them," he promised.
"There are quite so many of them (requests for state creation) and we will be guided by the constitution in looking at those requests."
Ubani also revealed plans for a retreat in Port Harcourt, Rivers State, to receive and discuss constitutional review memoranda and requests from the general public, stakeholders and government.