Twenty-Seven Arrested For Oil Bunkering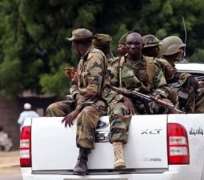 PORT HARCOURT, May 08, (THEWILL) – Twenty-seven people, comprising 22 Ghanaians and five Nigerians have been arrested, after they were caught stealing from a crude oil pipeline in the south-south city of Port Harcourt. Two boats, one carrying 25,000 metric tonnes of suspected crude oil, were also impounded.
"Our troops arrested the suspects on Sunday while they were doing illegal bunkering around Awoba flow station in Rivers state," Brigadier General Tukur Buratai said on behalf of the Nigerian Army. "They vandalised the pipeline and stole the crude. We arrested 22 Ghanaians, five Nigerians and two of their vessels. One of the vessels was loaded with 25,000 metric tonnes of substance suspected to be crude oil."
According to Royal Dutch Shell, oil bunkering slashes oil production in the world's eighth largest exporter of crude oil by some 150,000 barrels of oil per day. Only on Friday, the company declared force majeure on the lifting of Nigerian Bonny Light crude oil courtesy of oil theft that shut down more than 60,000 bpd of oil.