DON SEEKS INCLUSION OF TEACHER TRAINING PROGRAMME IN NYSC ORIENTATION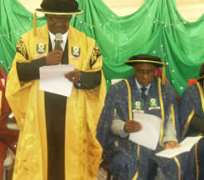 L-R: Prof. Eya, Prof. Tenebe, NOUN VC, Prof. Mba Okoronkwo, Deputy VC (Academic) and
Mrs. Josephine Akinyemi, Registrar of NOUN at the inaugural lecture
One of the nation's experts in curriculum and instruction, Prof. Patrick Eke Eya, has called on the Federal Government to incorporate teacher-training programme into the National Youth Service Corp (NYSC) orientation programme. He noted that it would enable the corps members to acquire some experience in teaching.
Prof. Eya made the suggestion in Lagos while delivering the third inaugural lecture of National Open University of Nigeria (NOUN), entitled 'marriage of curriculum and instruction reasons, results, and witnesses.' Chaired by the NOUN Vice Chancellor, Prof. Vincent Tenebe, it had in attendance principal officers of the institution, scholars and the celebrant's family members.
Giving his reason for the call, he noted that 80 per cent out of NYSC members posted each year to schools nationwide to teach and implement curriculum at different levels never read education either in the university or polytechnic. For this reason, the curriculum expert noted, majority of the NYSC members sent to schools hate teaching and sees it as punishment.
'You can imagine what happens in the classroom,' he added. 'I feel that if educational foundation courses are introduced to them in the orientation camps, it will help to a great extent. We know that some states depend largely on corps members for teaching in their schools. Knowledge of subject matter alone is not enough to make one an effective teacher.'
Eya described curriculum as the vehicle through which educational objectives are achieved and revealed that the Nigerian Educational Research and Development Council (NERDC) is the agency in charge of curriculum development at four levels of education in the country as stated in the National Policy on Education.
The Director, Enugu Study Centre told his audience that curriculum should be seen as inseparable from instruction hence the marriage of curriculum and instruction. He argued that, 'effective implementation depends on some factors such as fund, politics, attitude and methodology among others.'
Expressing concern that Geography is losing popularity in some states, he posits that the decline could be attributed partially to poor implementation of Geography curriculum thus leading to poor performance in WAEC and NECO examinations.
'The subject is no longer studied at the primary school level,' he said. 'Rather, it is studied under Social Studies which have its own curriculum implementation problem.' He therefore recommended that Geography be taught in the secondary schools with the aid of audio and visual materials.
Still talking about the scarcity of experienced subject teachers, the don lamented that teachers today teach subjects they never offered at their tertiary education levels. 'The truth is that one cannot give what one doesn't have especially if one hates the subject one is asked to teach,' he said. 'Teachers are made, not born. Teacher training institutions are established primarily for pedagogy. People who are teaching at any level of education without professional qualifications are quacks and are cheating rather than teaching.'
Prof Eya then urged regulatory agencies of education such as the school boards, the ministers of education, the NCCE and the NUC to supervise institutions under their jurisdiction regularly so that the high standard of education can be sustained.