FOR THE VIABILITY OF UNIOSUN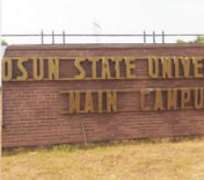 While growing up as a kid, this writer was made to understand that for any organisation to have fallen like a pack of cards, it must have been as a result of two things: the first being as a result of the actions or inactions of women in such organisation, while the second is usually and most importantly attributed to disagreements over money. The latter is the major concern of this writer and when placed vis-a-vis the recent events happening at the Osun State University, Osogbo, (UNIOSUN) one would not be misplaced to agree with the above assertion.
However, this writer in the last couple of years, firstly, when UNIOSUN began its academic session in 2007 and most especially at the time she celebrated its first ever convocation ceremony sometime in May last year and when suddenly there was a change of guard at the political ladder in Osun state, had written several published articles which gave warnings and made massive contributions as to how UNIOSUN would remain a world class university she prides itself to be.
This writer was particular about the fact that UNIOSUN and all those that had began its developmental process ought to do everything within its power to further sustain and strengthen the ideals of its founding fathers. UNIOSUN was established (even if it had been for political gains or reasons) to be the envy of many and since inception, the university councils had made it clear that university education wouldn't be business as usual for UNIOSUN, as several policies and initiatives were put in place, among which was to establish collegiate systems that would forge better understanding and filial relationships between town and gown, erecting standard structures at the start of the session where students would have a place conducive enough for learning, local government contribution to keep the university going and most importantly bringing together individuals to join the academic and non-academic staff of the university with their experience and expertise to make UNIOSUN a worthwhile venture.
All of these amongst others were put in place much that many of its harshest critics at the time the university was at its nascent period are today nowhere to be found as UNIOSUN's success story in the last four and half years had relegated most of them to the dungeon of shame. UNIOSUN can boast and beat its chest anywhere, perhaps as the only public university in Nigeria, in the last four and half years, whose academic calender had not been interrupted unlike what many witness on a daily basis when issues of power failure, lack of water, senseless unionism, unchecked cultism to mention a few, had led to closures, drawing the academic calender backwards. Not many would however, believe UNIOSUN would survive, despite being pelted with stones and thorns. It sure has and it is the duty of all stakeholders to ensure it triumphs even better than those universities who pride themselves as the epitome of academic scholarship in Nigeria.
Having said this, recent events taking place in UNIOSUN has continued to give many of those within and without series of concern. One of the first issues the founding fathers wished to nip in the bud when the university was established was the case of senseless strikes and it was for this reason pecuniary issues were usually taken with all level of seriousness. All staff of the university enjoyed huge salaries and all other remunerations much that UNIOSUN made sure its salary structure was at par with those at the federal universities.
However, things began to take another turn soon after the Federal Government/ASUU agreement of 2009, where one of ASUU's demand was the payment of earned allowances. UNIOSUN management on its part decided it was going to begin payment of these allowances by 2010. Many of the staff were patient enough and felt since it was both a promise and agreement, management was going to fulfil its own side of the bargain. It is over two and half years since that agreement was reached between the university management and staff, yet those promises had failed to yield dividends.
The brewing crisis came to a head when on Monday,the 23rd of April, lecturers and staff threatened to down tools and refuse to conduct exams for student. It took the timely intervention of the university management who promised to pay in installments in the coming days before exams were finally started and nerves being calmed. By the 30th of April, there was uncertainty in the air as both staff and students hoped the allowances would be paid as promised which was not, even as representatives of the staff went on a courtesy visit to the Osun state governor to salvage the situation.
In order not to jeopardise the lives of students and the heritage of the university which is not known for strikes, lecturers and staff decided to allow exams hold. However, the tale of management spending about 88 million naira to procure official vehicles for principal officers, one of which belonged to the Vice Chancellor and cost about 11 million naira, further led to palpable tension. Many had argued the V.C did not need a new vehicle since his tenure was about to end in about two months time. Others had also criticised the purchase at a time when peculiar and hazard allowances which was the bone of contention between management and staff had not been paid.
It was also noted that the state government refused to grant management's wishes to pay the staff their allowances simply because they noted those allowances were deliberately delayed for more than two years for reasons best known to the V.C and his team. The government also frowned at the request of the university management to pay allowances, having had their requests earlier granted to purchase vehicles for principal officers and the procurement of tractors for the university, an amount which ran into millions of naira and which would have been enough to pay more than half of the owed allowances.
It is a conspicuous fact that UNIOSUN is one of the most financially viable universities in Nigeria with its different models of funding. With this, one finds it difficult to understand how the university management refused to pay the allowances of its staff. Some of the staff are owed even up to a million naira simply because of the insensitivity. It is quite saddening that rumours within and outside the university points accusing fingers at the Aregbesola government despite the fact that the issue of allowances refused to be paid (when money flowed like rain) even when the previous administration held sway.
UNIOSUN has come a long way and it is for this reason issues concerning allowances must be solved amicably. The future of the students whose parents had paid heavily for their wards' school fees and endured the harsh academic environment characteristic of university education in the country should not be put in jeopardy. The university is growing by the day and this is evident with the number of students who choose UNIOSUN as first choice simply because she has been able to sustain itself and had no cause for a day old strike. Embarking on one at this critical moment of its growth does not augur well for the university.
If UNIOSUN must take its place as a world class university, it must do away with issues that would shake its very foundation. UNIOSUN must not give its harshest critics a reason to rise from the dead once again. UNIOSUN is a project which must never fail and it begins with stakeholders and most importantly all those who initiated the establishment of a world class university which today has become the envy of many.
Written By Raheem 'MOSHOESHOE' Oluwafunminiyi
[email protected]

Disclaimer:

"The views/contents expressed in this article are the sole responsibility of

thewillnigeria.com

and do not necessarily reflect those of The Nigerian Voice. The Nigerian Voice will not be responsible or liable for any inaccurate or incorrect statements contained in this article."
Articles by thewillnigeria.com