Akpabio's Prudence Earned Him Man Of The Year Award - Sanusi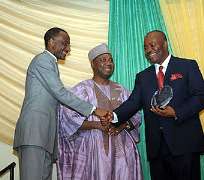 SAN FRANCISCO, May 07, (THEWILL) – Sunday's naming of Akwa Ibom State governor, Chief Godswill Akpabio as Silverbird Television's Man of the Year Award was well deserved because he prudently managed resources belonging to the state, Central Bank of Nigeria governor, Mallam Sanusi Lamido Sanusi, has said.
"I have the utmost respect for Governor Akpabio because of how he has managed the economy of the state since he became governor," commented Sanusi, who was speaking in Lagos at Akpabio's investiture as the Silverbird Man of the Year.
"Governor Akpabio is one of the very few governors who have prudently managed state resources. I know some people would say that he has more money and that is why he is doing all that, but let me also tell you that there are people that would collect more than what he is collecting and they would have nothing to show for it."
Sanusi noted further that "Nigeria's economy needs infrastructure and that is what Akpabio is doing in his state. He is providing hard and soft infrastructure; he is preparing the state for future economic boom."
Meanwhile, the recipient, Akpabio, used the opportunity of the award to condemn recent bombings and destruction of lives and properties in the northern region of the country.
"The killings have to stop immediately so that the country can have peace, which is a necessary ingredient for national development," he said while delivering his acceptance speech after the investiture.
"I am delighted to be honoured today by the Silverbird Group as their Man of the Year. My being honoured today alongside great achievers like Gen Yakubu Gowon, Gen TY Danjuma and Gen Mohammadu Buhari makes me value this award the more."
Akpabio, however, said his happiness was tainted by the heartbreak of Boko Haram's gun and bomb attacks, which have resulted in the loss of lives of innocent Nigerians
"No matter the level of deprivation and provocation, we should not take the lives of our brothers because of politics or religion," he pleaded.
"If you crave power, do not go to the extreme, because you may have the power at the end of the day, but peace, which is a major ingredient for governance, will not be there for you because of how you came to power. Therefore, I appeal to our leaders to step into this very dangerous and ugly trend so that this needless shedding of innocent blood would stop."