Leader Of Igbos In Kano Urges Boko Haram To Dialogue With Government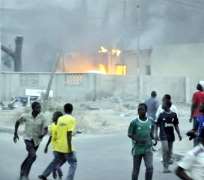 KANO, May 07, (THEWILL) - Eze Ndigbo of Kano, Igwe (Dr.) Boniface Ibekwe has appealed to leaders of the Boko Haram Islamist sect to unmask and dialogue with government in order to save innocent citizens from further unwarranted killings.
"It is important that I comment on the unending security challenges in the state and country in general," he said. "I want to condemn, in strongest terms, the dastardly killing and maiming of innocent worshippers at the Bayero University Kano (BUK) old campus by the Boko Haram group on Sunday 29th April, 2012."
Dr. Ibekwe urged the fundamentalists to consider themselves his children just as their defenceless victims are.
"It should be at the back of their minds that no living human being can fight God's cause or claim to be defending God no matter his or her assumed righteousness,
because all religions condemn killing of innocent people," he said. "Members of this group should end their hostilities and consider dialogue as a road map to the peaceful resolution of whatever grievance they have."
He also used the opportunity to commend efforts of the Joint Task Force (JTF) in handling the situation.
"It is in this vein that I wish to call on all Igbos and indeed other ethnics groups in Kano not to see the problem as a target on Igbos but rather to know that it is a general calamity," he added, saying that "they should go about their normal lawful businesses without fear of molestation or intimidation."
Dr. Ibekwe commended Governor Rabi'u Musa Kwankwaso for his continuous efforts in curtailing the security challenge in the state, equally expressing belief that the governor would continue with his monumental infrastructural development in the state, despite all distractions.
He also thanked the Emir of Kano, Dr. Ado Bayero for his fatherly role and guidance in the face of all the problems and prayed that Allah continues to use him for greater service to humanity.