Kojo Frans, CEO and President of NGB Africa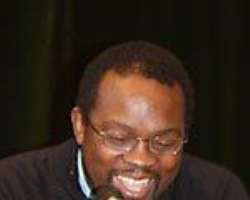 Kojo Frans, CEO and President of NGB Africa
Kojo (Joe) Frans is as of 1 January 2008, Chief Executive Officer and President of Next Generation Broadcasting (NGB), the newly created Swedish media and communications group. He is also an alternate Member of Parliament for the City of Stockholm, having been elected to the Swedish parliament in 2002 as the first African man to be elected to the Swedish Parliament. He served on the European Affairs advisory Committee and the Justice Affairs Committee. He tabled the private members bill on a new policy on Africa, which is currently under parliamentary scrutiny. He is the Vice Chair of the United Nations Working Group of Independent Experts on People of African Descent. He is the chairperson of the Award winning Rinkeby Community Center in Stockholm. He is married to Jeanette Kilinda Frans, who hails from the eastern region of the Democratic Republic of Congo (DRC.) They have a daughter, Josephine Conduah, and two other foster children, Lamine and Abie with Gambian roots.
Kojo Frans has taken on the mantle of CEO and President of NGB Africa to be part of a revolution, he says, "It's a revolution that is going to transform the way we communicate, but we will also pursue opportunities in small scale energy generation and distribution as well as in water and sanitation and I will also continue with some activities in the area of governance and help build institutions that will strengthen democracy".
Next Generation Broadcasting is a Swedish constellation that has been involved with both the Swedish and Finnish Digital Terrestrial Television policy draft and implementation strategies, including consulting services within fixed and mobile digital Radio/TV aggregation and distribution.
The company is majority owned by the sixth state pension fund of the state of Sweden and specializes in corporate financing, revaluation, underwriting and Pre-financing of freed spectrum space. The company was created to capitalize on the fact that TV broadcasts are currently being converted globally from analogue to digital.
This is driven by the increase in transmission capacity and the reduction in transmission costs as a result of this change. Up to 2015 analogue terrestrial television will be replaced gradually by digital terrestrial television in the whole of Europe and in USA. Almost all countries in the world have committed to digitalization by 2015 and the International Telecommunication Union will not be supporting analogue production from 2015. Sweden successfully completed its switchover in 2007 from analogue to digital. It is clear that digitalization creates a number of new trends including: Many new channels and a more fragmented audience, the internationalization of the industry and an increase of the total pay-TV market.
There are also many other advantages that come with digitalization, for example, the opportunity to create new dedicated channels like the Learning Channel and the promotion of local TV content production. The challenge now will be to bring this revolution in communication to Africa, this is the challenge that Next Generation Broadcasting will help meet in Africa. At the steering wheel of this revolution is an old boy of Adisadel College.
Joe was born in Takoradi on 9 September 1963 and moved with his parents to Cape Coast at the tender age of 1 year. At five years old, he was sent to stay with Rev. Charles Awortwi-Pratt of the Methodist Church of Cape Coast. "I learned to read by reading the Bible," he recalls, "I remember reading almost every morning before walking the two kilometers from Topp-yard to Mensah Sarbah Experimental Primary School in Cape Coast where I had my early education". Incidentally, Topp yard, the house in which he was brought up is the very place Adisadel College started once upon a time as a grammar school. Joe's great grand uncle is Maxwell Awortwi of Awortwi baby's fame. The roots of the Methodist Church in Cape Coast can be found in the history of his family, and so it is no wonder that he acknowledges the impact of the Christian values in his life.
Becoming an Activist…
He went on to study communication and sociology at the University of Gothenburg. The journey to the Swedish Parliament started during his student days when he became actively engaged in the anti-racist movement and especially in the Anti Apartheid movement.
"My political activity started during the mid-Eighties in the fight against racism, which I saw growing at that time," he says. For several years he was one of the leaders of the anti-racist movement called SOS Racism and Stop Racism.
In the Bible God says to humankind, "Love your neighbour as yourself" (Leviticus 19:18, Matthew 22:39), words which have become important to him.
"Taken as a whole, the Bible, and maybe especially the New Testament, is extremely powerful. It activates me to work actively against racism — among other things," he says.
After Gothenburg, Joe landed a job with the legendary Swedish TV and advertising producer Gunnar Hedin. He managed the program "Sweden Today", a current affairs program that was aired in the infancy of cable TV across the United States and Europe. He also started a media consultancy and later produced "Sweden Now". He is not only a social entrepreneur, he is also a business entrepreneur. He has been on the board of the Swedish federation of ethnic entrepreneurs since its inception some ten years ago. The organization has helped over 2000 businesses to start up and evolve. The King of Sweden has established an annual award in the name of this endeavor.
credit: [email protected]