Spain's Bankia: An Uneasy Mix Of Politics And Finance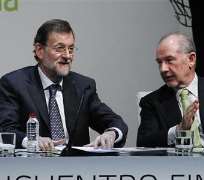 To watchers of Spain's deeply troubled economy it was a symbolic moment - Prime Minister Mariano Rajoy posing for photos with the chairman of Bankia (BKIA.MC), one of its biggest banks, then walking away deep in conversation.
For Rajoy, the photo call in front of Bankia's logo at a recent conference was a show of support for the bank's Chairman Rodrigo Rato, a political ally. Yet it also highlighted their interdependence.
Bankia, which holds around 10 percent of Spanish deposits and is highly exposed to a devastating property crash, is at the core of concerns over whether the country will have to seek an Ireland-style international bail-out to recapitalize lenders.
Investors fret the bank will not be able to recapitalize loans to housebuilders and repossessed property in a recession without a large injection of public money. But the political ties of the former savings bank complicate matters.
"If you want to solve Bankia, you shut it down. But the government is not considering that - it is so ingrained in the political system," said one Spanish banker involved with savings bank restructuring.
Certainly there is no shortage of links between the bank and Spain's governing People's Party (PP).
Bankia Chairman Rato was economy minister from 1996 to 2004 under a previous PP administration, before leaving Spain for a time to head up the International Monetary Fund (IMF).
Rato was a potential successor to former PP Prime Minister Jose Maria Aznar before being piped to the post by Rajoy. He is a proud man who banking sources say would do anything to prevent his bank being nationalized.
Nonetheless Bankia has already received 4.5 billion euros ($5.9 billion) in state loans and the Economy Ministry and Bank of Spain are working towards a further solution for the bank, a government source said.
Market watchers envisage a number of alternative solutions: a break up the group to sell it off in pieces; a merger with another bank; or a state takeover. The creation of a "bad bank" holding company for toxic real estate assets is also an option being explored by the government.
Spain's banks as a whole have until May 31 to say if they will need to merge with other entities under a reform plan presented two months ago to clean up the sector.
Bankia, around a quarter of the size of Spain's largest bank Santander (SAN.MC), declined to comment on whether it was in talks with authorities.
The lender has consistently maintained it is able to continue as an independent bank and has no problems in terms of solvency or liquidity. However, it has not ruled out mergers.
"We are in a robust position from the point of view of solvency and the point of view of liquidity," Rato said at a recent event in Madrid. The Bank of Spain approved all Spanish banks' plans to boost capital last month, including Bankia's.
This has not convinced the IMF, which alluded to Bankia without naming it in a recent report on Spain's banking sector. It pinpointed a group of 10 banks, most of which have received state money, as vulnerable.
"To preserve financial stability, it is critical that these banks, especially the largest one, take swift and decisive measures to strengthen their balance sheets and improve management and governance practices," the IMF said in a reference to Bankia.
SNOW WHITE AND THE SIX DWARVES
Bankia's roots lie in Spain's centuries-old system of "cajas", set up to tide over olive farmers in times of bad harvest but which became tied to regional governments and local politicians.
Known in banking circles as "Snow White and the six dwarves", it was formed via a merger between Madrid savings bank Caja Madrid plus six smaller regional banks, including Bancaja, the caja from the eastern Spanish region of Valencia.
Bancaja was the regional savings bank for debt-ridden Valencia, helping finance many of the grandiose projects of the local government while lending heavily to property developers along Spain's Mediterranean coast.
For example, Bancaja backed the Terra Mitica theme park outside the resort of Benidorm which went into administration in 2005 and Valencia's hosting of the Formula 1 European Grand Prix in 2008.
It also held a large stake in failed lender Banco de Valencia.
Heavyweight Caja Madrid was Spain's second-biggest unlisted savings bank with close links to the powerful PP administration of the capital city which is one of the country's 17 independently governed regions.
Following the merger, aimed at cutting costs through a reduction in its branch network and staff, Bankia has shut around 20 percent of its retail outlets and fired around 16 percent of workers. It retains more than 3,000 branches and nearly 21,000 employees.
Bankia's parent company Banco Financiero y de Ahorros (BFA) had nearly 32 billion euros of problem real estate assets at the end of 2011, including loans in arrears to housebuilders and repossessed property.
The bank must write down 5.1 billion euros of losses against the sector by the end of 2012, under government measures forcing a recognition of deteriorating property assets.
This would be a huge amount relative to the bank's earnings, being equivalent to around 16 times Bankia's 2011 net profit, whereas market leaders Santander (SAN.MC) and BBVA (SAN.MC) have to raise a only fraction of yearly profit to meet the government target on provisioning against deteriorating property assets.
Bankia has already set aside around half of this without recourse to public money, by booking against profits, selling assets and debt exchange operations. Investors are concerned that in a worsening economy, more Spaniards will default on debts, piling yet more pressure on the bank.
The lender has also gorged on cheap loans from the European Central Bank, or ECB, meaning it has plenty of liquidity despite being frozen out of international money markets alongside most other Spanish banks.
Bank of America Merrill Lynch estimates Bankia was the biggest taker among Spanish lenders in the ECB's cheap cash auctions in December and February, taking 36 billion euros, equivalent to around 12 percent of its assets.
This means the bank is able to finance its day to day business and cover maturing debt, but does not change the underlying issue of its legacy of toxic assets.
"From a liquidity point of view they have bought themselves time," said a London-based banker.
NATIONAL INTEREST
Bankia managed to force through an initial public offering in July as part of government demands for unlisted regional savings banks to take on private capital, although it had to price its shares at a 60 percent discount to book value.
More than half of the issue was sold to retail investors, following a wide-ranging newspaper and television campaign urging Spaniards to invest in the "best of the new banks".
Institutional investors were overwhelmingly domestic, with many banks buying shares as it became apparent the listing had become a touchstone for faith in Spain's banking system.
Despite the deep discount, the stock has lost about a third of its value since flotation.
"We were aware we risked losing over half of our investment, and that is exactly what is happening," said one Spanish banking source who bought shares in the initial public offering and spoke on condition of anonymity.
"The IPO went ahead because of national interest and every Spanish bank that bought shares did so knowing that there were problems of viability and that the share did not have much room to climb."
Such self-sacrifice may be laudable but it also points to a weakness. The deep ties between Spain's savings banks and regional politics mean authorities have gone through three bank reforms in as many years and lost credibility within Europe rather than shut down weak performers.
"The public sector has some rotten banks, but cannot close them. Why not? Because local politicians would not tolerate it," said Javier Diaz-Gimenez, economics professor at IESE Business School. "It would mean a loss of power for them."
REUTERS