We Are Monitoring 'Affected' Oil Well - Total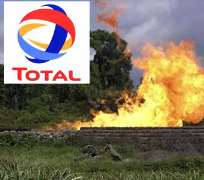 PORT HARCOURT, May 06, (THEWILL) – Total E and P on Sunday released a statement on its well, OML 58/Ibewa, which suffered a disaster on March 20, saying it is closely monitoring the process of returning the well to full operations.
The full statement reads:
Total E&P Nigeria Limited's (TEPNG) teams continue to actively focus on the well control operations of the IBW 16 on the Ibewa gas field in Rivers State, Nigeria, which was affected during the incident of March 20. Our technical personnel and equipment are fully mobilized on site. Operations are progressing according to the planned schedule.
The IBW 16 well was temporarily opened on 24th April 2012 to reduce the subsurface flow. The IBW 16 well has now been shut in to allow the assembling of a snubbing unit. The snubbing operation consists of pumping heavy fluid into the well to stop the flow of reservoir fluids. Rig-up of the snubbing unit is in progress.
Simultaneously, as a precautionary measure, relief wells are proceeding on two selected locations.
We continue to monitor the safety perimeter:
- Surveillance by TEPNG's teams on the ground and daily helicopter flights
- Dedicated monitoring wells have been drilled in the first 20m depth of ground to check the behaviour of the "surface" water (aquifer) around the impacted area (Piezometer wells).
- Daily analysis of air and water quality continue to be performed. No hydrocarbons or toxic compounds have been detected
- One water well in the resurgence area has been secured
TEPNG is in close cooperation with the authorities, providing regular updates on the situation.
TEPNG remains in contact with community representatives and is working closely with its stakeholders to continue providing assistance and identifying other needs, maintaining continuous proximity with the population on ground.