Sylva Denies Writing Open Letter To President JonathanSylva Denies Writing Open Letter To President Jonathan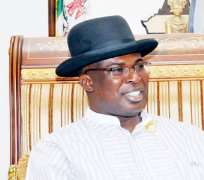 YENAGOA, May 05, (THEWILL) - A letter making the rounds in online media spaces has been denied by the very person said to have authored it — Chief Timipre Sylva.
The letter, titled I Need A Public Assurance From The President, was reportedly widely published online on Friday, 4th May, 2012.
"Sylva understands that the said letter may have come from his friends or political associates," a Saturday statement from Doifie Ola, his media aide, said. "He wishes to state that while he substantially shares the sentiments expressed therein, he neither authored the said letter nor authorised the use of his name on it."
The statement explained Sylva's willingness to appear in a properly constituted court of law to answer any charges in connection with his duties as governor of Bayelsa State.
"As a democrat and firm believer in the rule of law, Sylva reaffirms his unalloyed belief and respect for the democratic institutions of the country, particularly the judiciary, despite attempts to manipulate the gears and levers of that crucial third arm of government," it added.