Egyptians Rally To Demand Free Presidential Vote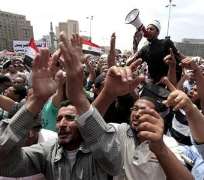 Thousands marched to Cairo's Tahrir Square on Friday to protest against the exclusion of prominent candidates from Egypt's presidential election, convinced that the country's ruling generals are trying to manipulate the outcome.
The vote offers Egyptians their first chance in five millennia to freely choose their leader and would mark the last step in a messy transition to democracy since the overthrow of autocratic leader Hosni Mubarak 15 months ago.
But last-minute changes to the line-up of contenders, bickering over a new constitution and suspicion that the military will continue wielding power after a new president is sworn in make for a chaotic backdrop to the campaign.
Unidentified assailants fired at protestors camping near the Defence Ministry in Cairo's Abbasiya neighbourhood early on Wednesday, starting clashes that killed 11 people and deepening suspicion that figures from the old regime are trying to derail progress towards democracy.
Many of those protestors were hardline Salafi Islamists upset that their candidate was ruled out of the vote, which begins on May 23 and 24 with a run-off in June.
The Muslim Brotherhood, which dominates parliament, saw its first choice disqualified too, handing a potential advantage to Mubarak-era contenders such as former foreign minister Amr Moussa and ex-prime minister Ahmed Shafiq.
Several thousand Islamists, liberals and left-wing revolutionaries had gathered by midday in Tahrir, headquarters of the street movement that has transformed decades of tightly-controlled Egyptian politics.
A speaker on one of several podiums set up in the square called on the crowd to march on to Abbasiya to voice their anger at Wednesday's deaths.
"The march to Abbasiya is beginning now. Join it. Your duties at Tahrir are over," he cried.
"Down, down with military rule," shouted another.
Banners hanging from the stages demanded an end to a constitutional amendment that forbid appeals against the disqualification of election candidates, the dissolution of the state election committee overseeing the vote and the enacting of a law barring Mubarak regime figures from politics.
The law was passed by parliament before the election committee published its official list of candidates. Shafiq was briefly disqualified as a result of the law, but still found his way back into the final line-up.
Members of the ruling military council on Thursday renewed a pledge to exit politics after handing power to the new president by mid-year. They said the handover could come earlier in the unlikely event that no one wins outright in the first round.
But tension between the interim government and parliament has left Egypt in a state of policy paralysis that has deepened an economic crisis caused by more than a year of political turmoil.
REUTERS