GENERAL OVERSEER WHO DOUBLES AS LEADER OF ROBBERY GANG, NABBED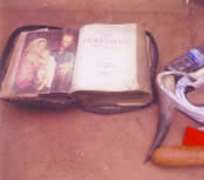 Bible and charms recovered from his house
A suspected evil pastor who allegedly doubled as the ring leader of a deadly gang of armed robbers has been nabbed. Pastor and General Overseer of a ministry in Eket, Akwa-Ibom, one pastor Eze was arrested by the operatives of Ondo State Police Command Special Anti-Robbery Squad(SARS) who trailed him to Eket, Akwa-Ibom after being exposed by members of his gang.
The deadly four-man gang that specialized in snatching of high profile cars and Sports Utility Vehicles(SUV) according to police sources had been terrorizing residents of Akure, Ondo State capital, and Ilesha in Osun State before they met their waterloo. The 41-year old pastor popularly known as Chairman was said to be the sole receiver of the cars snatched from innocent people and disposed them off in Akwa-Ibom.
It was gathered that whenever Pastor Eze and his gang went for operation he would stay in an hotel while the four gang members would be carrying out their nefarious activities  of snatching cars on the road . When the car has been snatched it would be taken to the Pastor in the hotel. The Pastor would drive the stolen car to Akwa Ibom where it would be sold . One of such stolen vehicle was said to have been sold for N2.5million
On March 6, 2012, Pastor Eze and his gang stormed Akure. He lodged in an hotel as usual and his gang members double-crossed  a woman, one Mrs Olubunmi who was driving an  SUV along FUTA Road  and snatched her car. The car was taken away and when information got to the Special Anti Robbery Squad (SARS), it swung into action  and got one of the gang members arrested in Akure .
Speaking with our reporter, Commissioner of Police, Ondo State Police Command, Mr Edgar Nanakumu said  the command has been facing a serious problem of combating car snatchers  within the state. 'We  have received several complaints of car snatching and  immediately the information came to us about this latest one. I quickly mobilized men of SARS  and they swung into action and arrested one of the gang members  and he confessed that one Pastor Eze  who was their gang leader always sold the snatched cars at Akwa Ibom State.'
Nanakumu explained that the policemen had to travel to Eket in Akwa Ibom State and arrested the said Pastor who happened to be the General Overseer (GO) of a church which has a large congregation in Akwa Ibom. He was arrested with charms, ritual  rings and Bible in his house. Pastor Eze, according to the Ondo CP confessed right in Akwa Ibom that he is the leader of the gang of armed robbers and the receiver of snatched cars and that he used to sell them at Akwa  Ibom State. CP Nanakumu said that the policemen arrested the four members of the robbery gang and that they confessed their operations in several states.
Some of the victims are said to have visited the police headquarters to identify their snatched cars and most of them have confirmed that the recovered cars were theirs. One of the victims, one Mr Sola told our reporter that ' It was a bitter experience when he was robbed and the hoodlums snatched his car. He said he had to report the matter at the Police Command .'The police did their best , they couldn't succeed . It was when I heard the information that the police have been able to arrest some suspects that I came to check if they were those that snatched my car  and I was able to identify one of the suspects. I am highly impressed by the police effort,' he said.
Another victim, one Mrs Olubunmi said: 'I was greeting my friend when suddenly  four armed men  double  crossed me with their Honda Accord Car and succeeded in taking my car away. I quickly went to report the incident at the police station. The police tried their best as they swung into action but the robbers escaped.'I was impressed when the story got to me that the Police have arrested some of the suspects in Akure . I was able to identify two of the suspects,' she said.
The suspected ringleader, in his confession said:' I have a ring   which the police recovered from me. I used the ring for power to bail out people from their problems . When a woman is not pregnant and I touched her with the ring, she would get pregnant. I used to deceive some of them and sleep with the women who came to church for counseling.
CP Nanakumu said the command has been able to arrest the four suspects.  He said that the command is still  investigating the matter and that when it is concluded the suspects would be charged to court.