Christians Losing Their Patience Over Bombings, Oritsejafor Warns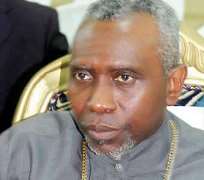 SAN FRANCISCO, May 02, (THEWILL) - President of the Christian Association of Nigeria (CAN), Pastor Ayo Oritsejafor on Wednesday said Christians could soon start reacting to bombings and shootings targeted at them by the Boko Haram Islamist fundamentalist sect.
"The church leadership has hitherto put great restraint on the restive and aggrieved millions of Nigerians, but can no longer guarantee such cooperation if this trend of terror is not halted immediately," he told journalists in the capital city of Abuja, warning that his latest comments represent the "final call" towards pushing government to take action.
Oritsejafor had previously hinted at the possibility of reprisals to Boko Haram's attacks, the most notable being in January when he said that "Christians would work out means to defend ourselves against these senseless killings."
In Boko Haram's most recent attack, a suicide car bombing targeted offices of ThisDay newspaper in Abuja and Kaduna, killing at least six people and injuring many others. Another bomb and gun attack targeted Christian Worshippers at Bayero university Kano (BUK) killing tens and injuring a dozen others.