Youth Top AIDS Chart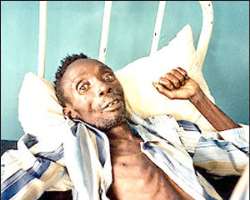 AIDS Patient YOUNG PEOPLE are reported to be at the centre of the global AIDS crisis with high infection rates still prevailing in Africa, the UNAIDS has announced.
It is in the quest to reduce the spread of the epidemic among the youth in Anglophone West Africa that the United Nations Educational Scientific and Cultural Organisation (UNESCO) and its sister organisations, are offering a 5-day training to some 30 selected HIV educators from Ghana, Liberia, Nigeria, Cameroon and Sierra Leone in Accra.
Abou Amani of UNESCO, who addressed participants at the workshop on behalf of his boss, Elizabeth Moundo, UNESCO Representative and Director, said globally, there are about 5.4 million young people living with HIV and forty percent of all new infections are amongst young people aged 15 to 24.
However, he said, numerous studies have shown that with the right kind of information and skills, young people could change their behaviour to reduce the risk of acquiring HIV or passing it on to others.
Citing examples, he said in countries like Haiti, Cameroon and Kenya, where there have been large scale HIV infection campaigns, young people are far more likely to delay the age when they start sexual relationships and to use condoms in sexual relationships. It is such shifts in behaviour, he mentioned, that are leading to real decreases in HIV rates, given the heavy emphasis on preventive education.
However, he described as unfortunate, the continuing stigmatisation and discrimination of persons living with HIV by their family members.
"This undermines efforts to get more people to voluntarily go for the HIV testing.
"HIV/AIDS-related stigma builds upon and reinforces earlier prejudices. It plays into and reinforces existing social inequalities, especially those of gender, sexuality and race, thus, hampering the attainment of the MDGs."
He therefore called on leaders at all levels, the media and persons living with the disease, to help reduce the stigma in the sub-region through continuous education.
Dr. Anthony Annan, Deputy Minister of Education, in a speech said, 33 million people were living with HIV worldwide according to 2007 estimates. This figure accounted for 67 percent of worldwide figure and 75 percent of AIDS deaths, while young people aged 15 – 24 accounted for an estimated 45 percent of new HIV infections worldwide.
"The increase in the number of children and young people living with HIV and the need to support HIV-positive learners, teachers and educational workers in general, pose new challenges to the education sector."
Since the hosting of the first ECOWAS sub-regional workshop on accelerating education sector response on HIV/AIDS in Ghana in 2004, the country has made significant strides in the fight against the epidemic. This has led to the attainment of a relatively low national prevalence of 1.9 percent (260,000 people) in Ghana according to 2007 estimates.
Currently, there are 117 anti-retroviral drug sales sites (both public and private) in Ghana. About 71,000 (People Living With HIV) PLWHIV need to be on anti-retroviral drugs but only 24,000 were said to be on it as as December 2008.
A full pack of anti retroviral pack costs $300 but has been highly-subsidised that it is sold to HIV infected people at GH¢5.
By Samuel Boadi