Maternal And Neonatal Health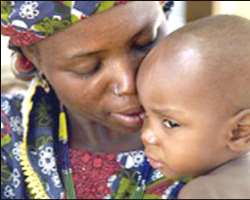 An African child and mother UNICEF has launched a report entitled 'The State of the World's Children' which focuses on critical issues surrounding maternal and newborn health. The 'continuum of care' framework is a key feature of the report which outlines the opportunities to increase essential services for mother's and newborns.
UNICEF aims to "deliver services at critical points" such as: enhanced nutrition, safe water, disease prevention, adequate antenatal care, obstetric and newborn care, skilled assistance at delivery and more. Reproductive health amongst young people in Africa has become a growing concern, due to a lack of knowledge and understanding about HIV and other sexually transmitted diseases.
UNICEF's Continuum of care programme aims to improve the reproductive health system by setting priorities and creating a series of strategies to stabilize the situation. Malnourishment is also a key contributor to maternal and neonatal mortalities.
It is a condition which prevents healthy growth in a newborn and can have devastating effects on the mother. Enhancing the nutrition of young girls and pregnant women has become a crucial focus for the various programmes which aim to improve maternal and neonatal health. Programmes have already started to encourage vitamin supplements and foods high in folic acid and iron into diets to support the health of pregnant women and young adolescents.
South Asia and sub Saharan Africa are the most affected regions for maternal and Neonatal mortality, where more than 60 per cent of women give birth at home under unsanitary conditions. In the Eastern region, it is common for women to give birth in small huts, which poses as a huge risk for the delivery of the baby.
In these situations basic hygiene practices are ignored, such as hand washing after using the toilet and before food preparation. Simple tasks such as these can be taught through encouraging household knowledge about sanitation, elementary health and nutrition, which will benefit a healthy pregnancy. In the year 2000, 36 per cent of Neonatal deaths were caused due to serious infections relating to unhygienic delivery methods. Since then, immunization and hygienic delivery practices have been encouraged, which has resulted in a significant reduction in neonatal tetanus. Unfortunately, most women who survive from childbirth usually suffer from pregnancy related illnesses such as infections, diseases and disabilities, all of which having lifelong consequences.
These however, can be prevented or treated through antenatal visits. Women are able to receive important information about the progress of the pregnancy and any tetanus immunizations or treatments for infections. In addition to this, basic and emergency obstetric and newborn, care is vital if a woman is experiencing complications during childbirth. In some areas of Africa, the quality of care which women receive is far from adequate. As part of UNICEF's maternal and neonatal programme, a strong focus has been placed on the quality of obstetric care which is being delivered in most African regions. Adequate assistance can be provided if there is a sufficient amount of medicine, equipment and trained health workers available.
Unfortunately, despite continuing efforts, neonatal mortality in Ghana has not improved since 1984. Because the state of maternal health in Ghana is so poor, a pregnant woman is 300 times more likely to die Ghana than in any other country. There is also a serious lack of resources in many villages, where there is no electricity, running water or basic sanitation.
The quality of Ghana's health service is not up to a satisfactory standard and simple procedures need to be taken to stabilize the situation. However, Ghana's health service cannot be entirely blamed. Since a large majority of pregnancies take place in small rural villages, it has now become a societal issue. Unfortunately, in most cases it is common that certain social and cultural factors create barriers for women to seek assistance and services. Because of this, the problems and complications have become societal issues where the local communities and families are not providing enough support.
In these remote areas, it is vital that everyone works together as a team to do what is best for the mother and her child. Simple procedures such as driving the mother to the hospital have become a real difficulty for local communities because of the state of the roads. These small rural villages should therefore have access to efficient vehicles such as 4x4's to safely transport a pregnant woman to a local health centre or hospital.
Inadequate human resources are just one of the reasons why maternal and neonatal mortality in Africa has not improved. It is a serious concern which needs to be treated as a national problem. UNICEF's 'State of the world's children' programme has managed to successfully set up a series of strategies to tackle these ongoing problems, but unfortunately the situation is far from being stable. So what can be done? UNICEF will continue to communicate the message that maternal mortality is a preventable death and that there are opportunities to save pregnant women in underdeveloped regions. Education in particular is an area which UNICEF will place a strong focus on, so young boys and girls can gain a thorough understanding of the situation.
A fixed financial contribution also needs to be in place for maternal deaths, such as a maternal health fund. Women should have the opportunity to attend family planning, which should also be incorporated into their national health insurance. Maternal and neonatal mortality has become a critical state of affairs in Ghana, but with the correct procedures and strategies in place, it is a problem which can be resolved.
By Tanya Hill