PRESIDENT, GOVS TO LOSE IMMUNITY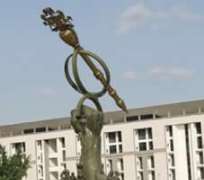 If the push by lawmakers sails through in a fresh amendment of the 1999 Constitution, the President, his deputy, all governors and their deputies may lose immunity from prima-facie criminal cases. Section 308 of the 1999 Constitution presently confers immunity on the President and governors. The extant section 308 (a) states: 'No civil or criminal proceedings shall be instituted or continued against a person to whom this section applies during his period of office…'
Thereafter, Section 308 (3) lists such persons to include any person holding the office of President or his deputy, governors and deputy governors. Should the Senate Committee on the Review of the 1999 Constitution goes ahead with the recommendations forwarded to it by the sixth National Assembly, the immunity clause may be amended to accommodate to protect the President, governors and their deputies from only civil matters.
With nine recommendations presently before the Senator Ike Ekweremadu-led Constitution Review Committee (CRC), the suggestions on immunity clause states that the: 'Immunity clause in the Constitution be amended in such a manner that it can only apply to civil matters and not on prima-facie criminal cases.'
The Deputy Senate President's CRC commenced a fresh amendment of  the Constitution with an inaugural meeting two weeks ago.
Kickstarting the fresh amendment, the Senate has set a tentative date of July 2013 as the deadline for the passage of a new constitution for the country.
By June 2013, the Senate CRC estimates that the bill would have been passed in the chamber while setting February 2013 for the draft of the amendment bill.
Also next February, the Senate will meet with the state Houses of Assembly after which the bill on the Constitution review will be introduced in the Senate Chamber in March 2013.
An agenda of the Senate CRC, a copy of which was obtained by Daily Sun, showed that the committee will go on two retreats aimed at collating memoranda from the public as well as aggregating public views and input on issues slated for amendment.
A public hearing would hold in Abuja soon.
Under the 1999 constitution, the President, governors and their deputies can be investigated over corruption allegation, but the anti-graft agencies, Economic and Financial Crimes Commission (EFCC) and the Independent Corrupt Practices and other Related Offences Commission (ICPC), cannot take action until they leave office.