IN RESPONSE TO PROFESSOR ANGO ABDULLAHI AND MALLAM ADAMU CIROMA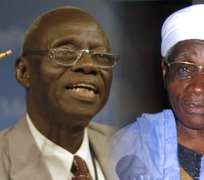 This article is in response to the mischievous rants of Professor Ango Abdullahi http://www.punchng.com/news/we-are-ready-for-break-up-northern-leaders/ and Mallam Adamu Ciroma http://saharareporters.com/news-page/god-will-bring-new-usman-danfodiyo-clean-nigeria-says-adamu-ciroma regarding the state of affairs in the Disunited Nations of Nigeria. As a teenager in Port-Harcourt there eventually came a time that my mother could not spank me as a means of actualizing discipline, however since she was not the primary enforcer in our household she had always combined the use of talk therapy and ass whooping. Mother was quick to use such English adages as "A stitch in time saves nine" to get me to examine my actions and change my ways. But by far her numero uno admonition to me was Shakespeare's "To Thine Own Self Be True." These words were normally said after letting me know that I could tell her all the lies in the world but it was more important to remain frank with myself upon vacating her presence. In my capacity as a social justice activist I would be remiss if I fail to point out the similarities between my situation as a Nigerian youngster and the so-called Northern Nigerian leaders like Professor Abdullahi and Mallam Ciroma.
Consequently, when old men and jobbers like Alhaji Adamu Ciroma of the Northern Elders Forum and Professor Abdullahi of the Arewa Elders Forum are busy with the Mis-Education of northerners and causing rancor in the nation, we the members of the Nigerian progressive community must stand up and chastise them. This is all the more imperative because of the void in young progressive voices from northern Nigeria. Religion, Corruption, and Elitism has been used to manipulate the influences of youthful future leaders in the north who could have risen up to join the discourse with moral clarity by demanding justice for all, instead of those select few. In its place we continue to have these vacuums were people like Abdullahi and Ciroma, staunch members of Nigeria's 1% wealthy crooks are allowed to display their follies and buffoonery. What do we expect when a highly educated chap like Umar Farouk Abdulmutallab alias the underwear bomber, was only confined to either joining the corruption and elitism of his father's generation or to use the Islamic religion as a tool to hate others? How come young Farouk was not allowed and/or afforded the intellectual decency of challenging the decadent status quo in the north and in Nigeria?
In Southern Nigeria, religious leaders like Benson Idahosa, Kumuyi, Father Edeh, Adebayo, Arinze, Oritsejafor, Stephen Akinola, Amaga, Okogie, Peter Akinola, Ukpai, Olukoya, Oyakhilome, Oyedepo (slapper/assaulter) cannot tell some of us that the sky is red and we believe when we can observe with our own eyes that the sky is actually blue. Advocates for the Sovereign National Conference do not want the country to breakup. Instead we are demanding for true confederation in the spirit of the Aburi Accord which General Ojukwu and General Gowon signed in Ghana, 1967. We demand a Nigeria that is free from the contraptions of the Northern Military Industry Complex, NMIC. Our federation's resources should benefit the larger majority and not the select few who have self-imposed themselves as Lords over us. For instance President Jonathan should not be championing the institutionalization of Islamic schools otherwise known as Almajiris through the building of more such schools. For God sakes these were the steppingstones of the current Boko Haram insurgencies that have consumed the north. The desires of the progressive communities are for a nation that trumpets economic justice, development, equality, selflessness more than nepotism, religion, ethnicity, and mediocrity.
As such we cannot seat by and allow men like Professor Ango Abdullahi and Mallam Adamu Ciroma to use their distorted cognitive dissonance to assemble their perverted realities without pushing back. These men are analogous to the Republicans in the United States who are adept at manufacturing their own realities. Nigerian progressives and our people are not asking for too much when we demand to seat down and discuss the future of the country. Our goal is to have a functional democracy as opposed to the plutocracy that we are witnessing that only works for 1% of our population rather than the other 99%. We want a country where mundane things function for the regular Nigerians. We demand a nation in which corrupt criminals like former governors and present governors such as Governors Peter Odili, Ikedi Ohakim, T.A. Orji, Senator Abubakar Saraki and former Speaker of the House Dimeji Bankole to mention a few, are not provided with carte blanche to ruin the nation with their immoral gluttony. Progressives insist on seating to ascertain why we have petroleum cabals who are looting the treasury with government accomplices while the Niger Delta swamps are more polluted than the Gulf of Mexico.
When I remember the admonition "To Thine Own Self Be true" I realize why my mother the daughter of a secondary school Principal, Mr. Alaibe Ogan would always remind me of the truth. Since I was called Alaibe after my grandfather I remain fearless in advocating for the longings of my countrymen. Fellow Compatriots of the United Nations of Nigeria require a land where President Goodluck Jonathan's ideas of transformation is not just the selective sacking of one state governor in the person of Timipre Sylva but all and sundry corrupt officials. For example, our Petroleum Resources Minister Diezani Allison-Madueke and Central Bank Governor Sanusi Lamido Sanusi should have gotten their pink slips months ago if our president was true to himself and the citizenry. Professor Abdullahi and Mallam Ciroma should continue to thank their lucky stars that despite reaching our frustration threshold some of us are still maintaining our humanity. In the face of frequent provocations they should pray that that day never comes when we go off the deep end. This is essential because as social justice activists some of us are not pacifist and might well be driven to our machinations to counter the northern sponsored Boko Haram and the present scourges of corruption.
These so-called leaders should be glad that at this juncture we only demand for dialogue cross the table.
Written By Nnamdi F. Akwada MSW, BA

Disclaimer:

"The views/contents expressed in this article are the sole responsibility of

thewillnigeria.com

and do not necessarily reflect those of The Nigerian Voice. The Nigerian Voice will not be responsible or liable for any inaccurate or incorrect statements contained in this article."
Articles by thewillnigeria.com