Lake Chad Disturbances Worry Jonathan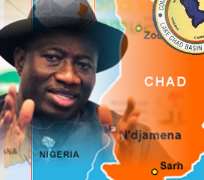 SAN FRANCISCO, April 30, (THEWILL) - President Goodluck Jonathan on Monday expressed worry over the disturbing spate of insecurity and threat to peace around the Lake Chad region.
Addressing the 14th Summit of the Heads of State and Government of the Lake Chad Basin Commission (LCBC) in N'Djamena, Republic of Chad, he observed that certain groups of individuals have been taking advantage of the freedom of movement around border areas to unleash terror, fear and hate on innocent citizens.
President Jonathan expressed appreciation for the continued external support he always receives "whenever despicable acts of violence are perpetrated by some of these groups in the country."
The President urged member countries of the LCBC to see this threat beyond the confines of national territories, and consider its wider sub-regional implications.
"Let us, therefore, re-strategise to ensure that our security plans include the border areas of the Lake Chad region in a robust and holistic manner," he said. "It has become urgent to give a new mandate to the multi-national Joint Task Force to include cooperation in dealing with such cross-border insurgency within its area of coverage."
On the major issue of the drying up of Lake Chad, President Jonathan expressed delight that the feasibility study on Inter-Basin Water Transfer from Oubangi River in Central African Republic to Lake Chad has revealed that the gigantic project is feasible and can restore hope to the populations around the Lake.
With regard to the recurring problem of insufficient funding of the LCBC Secretariat for optimal performance, he appealed to member countries to ensure speedy redemption of outstanding financial contributions, emphasising that "without funds, it is impossible for us to carry out the various plans and initiatives of the LCBC."
He further urged the strengthening of the Inter-Parliamentary Union on the Lake Chad Basin Commission.
Executive Secretary of the LCBC, Sanusi Abdullahi, in his remarks, commended Nigeria and Chad for having paid, up to date, all their financial obligations.
President Jonathan, host President Idriss Deby Itno, Presidents Issoufou Mahamadu of Niger Republic and Francois Bozize of Central African Republic also attended the summit, while Cameroun, Libya and Sudan were represented by ministers.