Jonathan Condemns 'Murderous' And 'Brutal' Kano Bombing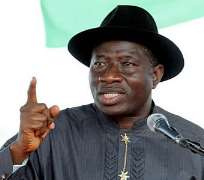 ABUJA, April 30, (THEWILL) - President Goodluck Jonathan has condemned Sunday's "murderous" terrorist attack on Bayero University Kano (BUK) and the "brutal" killing of its innocent worshippers by vicious assailants.
"President Jonathan deeply regrets this utterly heinous descent to new depths of calumny by the perpetrators of the attack on one of the nation's most hallowed citadels of academic endeavour and its members," a Monday statement signed by Dr. Reuben Abati, his special adviser on media and publicity, observed.
"The President urges Nigerians to remain united in their condemnation and rejection of the terrorists who have shown even more clearly by their latest attacks on the media and the academic community that their objective is to destabilise the nation and its vital institutions."
He expressed "deepest sympathy and condolences" to families of members of the Bayero University community who died in the attack.
"As the nation mourns their tragic loss, the President urges Nigerians, once again, not to succumb to despair over the persistence of the terrorist attacks, but to remain assured that the Federal Government is doing everything possible to ensure that the country overcomes the scourge of mindless terrorism," the statement added.