Jury Still Out On International War Crimes System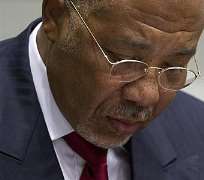 Former Liberian President Charles Taylor's war crimes conviction may be seen in some quarters as a victory for global justice, but a backlash against costly, lengthy international tribunals is also underway.
Found guilty of aiding and abetting a host of crimes including murder, rape and torture as well as arming brutal Sierra Leonean rebels, Taylor became the first head of state to be convicted by an international tribunal since the Nuremberg Trials after World War Two. He will be sentenced on May 30.
While Adolf Hitler avoided justice at Nuremberg by committing suicide in his Berlin bunker, his successor Admiral Karl Doenitz was convicted of crimes against the laws of war and planning a war of aggression.
Human rights groups and western governments in particular welcomed the Taylor verdict, saying it stood as a warning to others that while the wheels of justice might take a long time to turn, the age of impunity for national leaders was over.
But with the United Nations-backed "hybrid" court trial - including both international and Sierra Leonean members - taking a decade and costing an estimated $50 million, some see that as simplistic. Some put the cost of the entire Sierra Leone tribunal process at some $200 million, while British newspapers complained that plans for Taylor to serve his sentence in a British prison could cost taxpayers up to 100,000 pounds a year.
At the very least, some wonder whether the money could have been better spent in impoverished West Africa.
While Taylor's prosecution was handled by a tribunal only looking at one conflict - Sierra Leone, not the Liberian civil war in which he is also accused of mass atrocities - most more recent war crimes cases are in the hands of the International Criminal Court.
That has now issued indictments for crimes committed in six countries - Democratic Republic of Congo, Uganda, Sudan, Central African Republic, Libya and Kenya - and found itself coming under growing criticism itself.
"No one's in favor of impunity," says Jennifer Cooke, head of the Africa program at the Centre for Strategic and International Studies in Washington DC. "But there are growing questions about the way in which international justice is being carried out in cases like this. There's the cost, there is the time and with the ICC there are complaints that they are only targeting Africans."
Others say that while the system remains deeply imperfect, and does almost invariably find itself targeting less powerful countries and their leaders, it is improving.
The fact that some of the first recent war crimes trials were for abuses in the former Yugoslavia, they say, suggest African complaints of victimization may be wide of the mark. That prosecution remains a distant dream in many conflicts, they say, does not make the process a bad thing.
"There is no doubt...(the) verdict sends an important message to high-ranking state officials; no matter who you are or what position you hold, you will be brought to justice for crimes," said Brima Abdulai Sheriff, Director of Amnesty International Sierra Leone.
Other voices, however, worry that on occasion war crimes charges themselves may be making it harder, not easier to bring peace. Indicted war criminals such as Ugandan Lord's Resistance Army leader Joseph Kony might become more reluctant to agree peace deals.
Less punitive systems such as South Africa's Truth and Reconciliation Commission, where abusers were granted amnesty if they told the truth, are held up as alternative models. But other recent attempts, such as Sri Lanka's recent inquiry after its civil war, have been widely criticized as whitewashing government acts.
"Prosecution is very important," says Colette Rausch, director of the rule of law program at the United States Institute for Peace. "(But) it's not the only thing when you look at it from a transitional justice perspective -- looking at the transition from conflict to peace. It doesn't necessarily heal all wounds and it doesn't necessarily help individual victims."
JUSTICE DELAYED, DENIED?
The failure to hold other heads of state accountable, experts say, reveals some more of the struggles international justice faces.
The trial of Slobodan Milosevic, the Yugoslav leader accused of orchestrating multiple atrocities during the Bosnia and Kosovo wars, died in 2006 with his trial unconcluded. Critics said he had been simply allowed to prolong his trial too long, effectively denying justice to his victims.
Sudan's President Omar Al Bashir, indicted for war crimes and crimes against humanity in 2009 and for genocide the following year, remains not just at large but still in power.
The charges hanging over his head do not appear to have significantly weakened him domestically or perhaps even within Africa. The African Union and Arab League both condemned the indictment, and he has since visited several countries including Djibouti, Egypt and Kenya -- a move some worry has essentially made a mockery of the court.
When Muammar Gaddafi was killed by a mob last year in the dying days of Libya's civil war, some western states and local leaders, many sometime allies or co-conspirators, while condemning the act may have drawn a sigh of relief he would not appear in court.
Gaddafi might have jumped at the chance to extend his time in court as long as possible and seek to compromise Western governments with accusations of co-operation.
Certainly, Libya shows little sign of handing over Gaddafi's eldest son Saif, captured in November and in custody. After discussions between the ICC and Libyan authorities, he may now be tried in Libya but under ICC supervision.
That, analysts suggest, would allow Libya's new rulers much tighter control over proceedings and to try him on counts other than war crimes -- potentially including financial embezzlement.
Some rights activists have long worried he might put up a relatively strong defense against the war crimes charge if he were able to claim he had no direct involvement or was trying to rein in his father's excesses.
MOST POWERFUL WALK FREE?
The only head of state so far extradited to the International Criminal remains Ivorian President Laurent Gbagbo, sent to the Hague in November. He was captured in his compound in Abidjan following an operation by French and Ivorian forces loyal to Alassane Ouattara, internationally recognized as the winner of a 2010 election.
But there seems little sign that either Ivorian courts or the ICC itself have any particular appetite to charge those on the winning side with war crimes, despite reports from groups such as Human Rights Watch laying serious accusations on both.
In the other countries so far handled by the ICC, some again see a reluctance to charge those still in authority. While Lord's Resistance Army leader Joseph Kony is widely regarded by rights groups as one of the world's worst war criminals, accused of killings, rapes, murders and child soldier recruitment, Uganda's President Yoweri Museveni is also seen far from clean.
Once lauded by the West, critics now view his rule as increasingly autocratic.
In Democratic Republic of Congo, several militia leaders have been indicted of various crimes. But there have been a few suggestions of a move against President Joseph Kabila despite allegations of abuses by his forces.
Syria's Bashar Al Assad, analysts suspect, will probably avoid his own ICC indictment as long as Russia and China protect him from a Security Council ruling referring him to the court. Beijing, Moscow and Washington will likely long drag their feet on any new structures that could hold their officials or commanders responsible for acts committed at home or abroad.
But some believe that the Taylor verdict suggests the overall tide of history may now be unstoppable.
"It's hard to say where things will go from here," said Rausch at the United States Institute for Peace. "But given what has happened with the ICC - which some people said would always be impossible to set up - I think the systems will continue to grow. Exactly what they will look like, it's impossible to say."
REUTERS