Cancer risk 'not changing habits'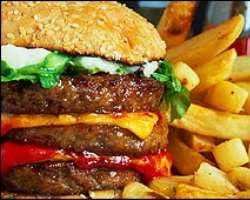 People are still eating unhealthy food
Two thirds of people have not changed their diet or lifestyle to reduce the risk of cancer, a survey for the BBC's Newsnight programme has found.
This is despite evidence and public health campaigns that highlight diet and lifestyle as a cause of between a third to a half of all cancers.
The poll of 1,000 adults found over a third said that they tried to ignore cancer or hardly ever think about it.
One cancer expert said new ways were needed to convey health messages.

The poll also asked people whether or not they felt they had been told enough about cancer.
A third felt they did not have enough information about the symptoms of the most common forms of cancer, while only 45% said they had enough information on all of the four most common forms - breast, prostate, lung and bowel.
Women were more likely to feel they had enough information, with 48% saying they knew enough about cancer symptoms.
Men are almost twice as likely as women to bury their heads in the sand with 22% "hardly ever" thinking about cancer.
And a quarter of 18-24 year olds also rarely thought about the disease.
When asked about the government's actions, most 60% - did think the government has provided enough clear advice about ways to change their diet and lifestyle to reduce the risk of cancer.
And the majority praised UK cancer treatment. Two thirds said it was "fairly good" while 13% said it was excellent.
Warning signs
The number of people who would seek help if they found potential signs of cancer was relatively high.
Some 86% of people would contact their GP immediately if they discovered they were 'bleeding from the back passage' - which can be a sign of bowel cancer.
And almost as many would go straight to their GP if they were 'coughing up phlegm with signs of blood in it', a potential lung cancer symptom.
Almost all women - 95% - said they would contact their GP if they discovered they have a lump on their breast. Only 1% would not.
And 85% of men would go straight to their GP if they were having difficulties passing urine - a potential sign of prostate cancer.
Professor Karol Sikora, medical director of CancerPartnersUK, said the poll showed how people contradict themselves.
"They want more information, but when they get it they don't do anything about it.
"It's very difficult for governments, whatever their politics are, to tread the fine line between a nanny state and telling people what they need to know."
He said innovative approaches that were directly relevant to people's lives could be more effective.
"It's amazing how much of a difference Jade Goody made to cervical screening.
"It may be the way to get through to people, through people they really respect or identify with, rather than the standard, rather boring and dry advice people get now."
More to be done
Richard Evans, of the World Cancer Research Fund, said: "Research has shown that about 40% of people do not know that things like diet and body fat are linked to cancer.
"But scientists estimate that about a third of the most common cancers in the UK could be prevented by eating healthily, being physically active and maintaining a healthy weight.
"This is why we need to do more to get across the positive message that by making healthy choices today, people can reduce their risk of developing cancer later in life."
A spokesperson for the Department of Health in England said government policies had contributed to a fall in smoking rates.
The Change4Life campaign aimed to get people eating more healthily and taking more exercise, and measures were also in place to try to cut excessive drinking.
"Healthy living should not be underestimated - and it's never too late to change."