MOVIES, MUSIC AND MEDIA CORRUPTION (3)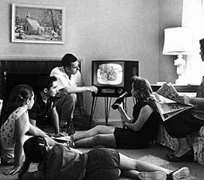 Is there way out of movies, music and media corruption? Yes, "Christ in you" the hope of getting out of the mode, lifestyle and worldly influence that enslaves people through the abuse of movies, music and media (see Col.1:27). It is a transformed regenerated person that can overcome the negative influence of movies, music and media corruption (see Rom. 12:1-2, Titus 3:5-7). The effect of these corruptions and misused of movies, music and media on our children is alarming. In essence what we have done is brainwash our children to hate our culture, to hate our morals, to hate beauty and significance, to hate authority and substance, to hate us and hate each other.
Perhaps that is why our society has become such an inhospitable place. Once upon a time Nigerian culture was actually recognized far and wide for its genial hospitality, gracious sincerity and friendly warmth, while always gregarious, ardent and demonstrative, that enthusiasm invariably seemed to be tempered with a contagious sociability. But it appears those days are all but gone. Observers of the contemporary Nigerian scene are often struck by the grating incivility of our conduct. More often than not we are rude and crude to one another, mocking and disrespectfully to due authority, and irreverent and baleful to time honoured convention. We often appear to be hasty and unconcerned about practically anything and everything but our own agendas.
Though most of us still make every effort to be decent, hardworking and upstanding citizens, the effects of this ever widening culture of impertinence are felt by us all. There is practically no escaping them. They are all too obvious in our business affairs, our community interactions and our interpersonal relationships. Ultimately, they contribute to a divisive, dehumanizing and disrespectful social environment – one that may even stoke the flames of disaffection and violence among our children. It is all too evident that there is a civil war going on for the destiny of our nation, our culture and our civilization – one that this generation will lose if popular perversity continues to flourish in our hearts, our homes and our lives.
The question is, what can we do about it? How do we draw the line? Here are some important steps to take to become informed, to protect yourself and your family from the negative influence of the media, and to help bring about societal change.
• Visit www.mediawatch.com to learn more about this issue. * Set standards in your own home regarding viewing and listening habits that are based on scriptural principles and stick to them. * If something on the television or radio crosses a line you draw, change the channel or turn it off. * Review media ratings to make educated decisions for yourself and your family. * Visit www.pluggedinonline.com for good reviews on movies, television and music. World magazine on line has a section titled Culture beat that is a good source for movie and TV reviews.
• Visit the web site at www.worldmag.com. * Visit www.kids-in-mind.com for movie reviews for the entire family. * Write letters to local media outlets objecting to obvious bias against morality. * Contact the Federal Ministry of Communications, Culture and Tourism to file indecency complaints against media outlets. * Read Hollywood vs. America by Michael Medved. Read Silence no more by Rod Palsey. It won't be easy to start a cultural revolution, but we can do it if we are willing to draw the line by living according to biblical standards ourselves as well as standing up and speaking out for moral clarity in our nation. There are no other options, for the sake of our children, we must win this war. Have question, you may call: 08033399821 or write: [email protected] Stay blessed.
Written BY Dr. Lewis Akpogena

Disclaimer:

"The views/contents expressed in this article are the sole responsibility of

thewillnigeria.com

and do not necessarily reflect those of The Nigerian Voice. The Nigerian Voice will not be responsible or liable for any inaccurate or incorrect statements contained in this article."
Articles by thewillnigeria.com