NSA, PDP Have Brought Shame To Nigeria - ACN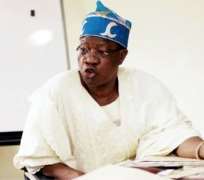 SAN FRANCISCO, April 29, (THEWILL) - The Action Congress of Nigeria (ACN) has described as a national embarrassment the public face-off between the National Security Adviser, Gen. Andrew Azazi and the Peoples Democratic Party (PDP) over the real cause of Boko Haram insurgency.
In a statement issued in Lagos on Sunday by its national publicity secretary, Alhaji Lai Mohammed, the party said the shame brought on the country by the public spat is not so much in their statements, disingenuous as they may seem, but in the fact that a ruling party and a top political appointee of the central government it controls could be so naive and uncouth over a serious national security issue.
"We have said it several times that the PDP and the government it controls at the centre are clueless, confused and totally incapable of piloting the affairs of this nation. Is there any better evidence of this cluelessness than what Nigerians are witnessing now?" the statement queried.
"It does not matter how much the president tries to engage in damage control over the statement credited to his NSA, or the ever-so knee-jerk and poorly-thought-out reaction of the sinking behemoth called the PDP, the reality is that the NSA's shocking comments reflect the thinking in the highest echelon of the Jonathan administration, that the crooked politics of the PDP is behind the Boko Haram crisis, and that it has escalated because a son of the South-South is sitting
in Aso Rock."
ACN branded the NSA's analysis as "pedestrian," and blamed the PDP for "shooting the breeze," in trying to tackle the crisis.
"With the PDP and the government it controls pulling in different directions, there is little or no surprise as to why the welfare and security of Nigerians have been pushed to the back burner, as key players of the ruling party and the Jonathan administration opt to dance naked in the public square," ACN said.
"The only area the PDP and the government see face-to-face is in the sharing of the spoils of office and looting of the commonwealth. After gorging itself, the party with the tattered umbrella as a symbol then engages in chest-beating as the only truly democratic party in the world."