In Battle Of The S&P, Can Bulls Gain The Edge?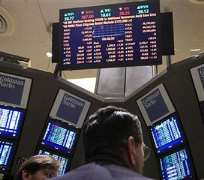 It will be another battleground for S&P 500 index next week. Will the bears finally give up and let the bulls have their way?
The S&P 500, the market's broadest measure, managed to close out the week above the psychologically important 1,400 mark for the first time since early April. But the index is still down 0.4 percent for the month so far even after gaining 1.8 percent for the week, with only one trading day left in April.
Brian Lazorishak, senior quantitative analyst and portfolio manager at Chase Investment Counsel in Charlottesville, Virginia, said a close above 1,400 is positive, but the recent high, near 1,422, is a more important technical level.
"That's what we're looking for on the upside as confirmation there's room to move higher," Lazorishak said.
"A close above that would open the window to testing highs back to early 2008. The next natural area you'd see is a run to at least 1,440, the May 2008 high."
Next week's release of a slew of economic data on the U.S. labor market and the beginning of the latter half of corporate earnings will be keenly watched to see if they are enough to allow stocks to break above the recent trading range.
The S&P 500, up 11.6 percent for the year, jumped 4.4 percent in January, 4.1 percent in February and 3.1 percent in March, but is down 0.4 percent so far this month.
"The sideways action we have seen over the past few weeks was enough to alleviate any overbought conditions that existed in the market a month ago," said Larry McMillan, president of options research firm McMillan Analysis Corp in a report on Friday.
"Thus, the market has the potential for another leg higher in this longer term uptrend, one that began early October 2011," he said.
JOBS, JOBS, JOBS
At the top of investors' radar screen next week will be the government's closely watched monthly jobs report for April, to be released on Friday. Jobs growth in March slowed to 120,000, the smallest increase since October, disappointing investors even though the unemployment rate fell to a three-year low of 8.2 percent.
Ahead of the government's payrolls report, investors will be watching the ADP Employment Report due on Wednesday and weekly jobless claims data due on Thursday for indications of whether the labor market is gaining momentum.
Corporate earnings, which drove gains in stocks last week, will also be in focus.
As of Friday, 57 percent of the S&P 500 companies had reported first-quarter results. Of those 287 in the S&P 500 that had reported earnings, 72.8 percent posted results that topped analysts' expectations, according to Thomson Reuters data.
Companies due to report earnings next week include Chesapeake Energy (CHK.N) and Pfizer Inc (PFE.N) on Tuesday; Prudential Financial (PRU.N), Time Warner (TWC.N) and Visa Inc (V.N) on Wednesday; and Kraft Foods (KFT.N) and Viacom Inc (VIAB.O) on Thursday.
Also on agenda next week, Jamie Dimon, chief executive of JPMorgan Chase & Co (JPM.N), has organized a meeting of major bank chief executives with Federal Reserve Governor Daniel Tarullo, the central bank's point man on regulation, according to The Wall Street Journal on Friday.
The meeting, slated for Wednesday in New York, is expected to focus on a Fed proposal to limit banks' exposure to other firms and governments, though other regulatory concerns likely will be discussed.
REUTERS