BALOTELLI SET TO RETURN FOR DERBY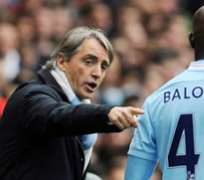 Controversial Manchester City striker Mario Balotelli is expected to line up against United in a clash which could determine this season's Premier League title.
Balotelli escaped a lengthy suspension following his send-off against Arsenal earlier this month, instead receiving a three-match ban. Roberto Mancini immediately reacted by stating Balotelli's season was over, but the City boss has now hinted that his compatriot may be involved in Monday's crucial fixture.
'Despite some stupid things he has done, Mario has done some important things, like his double strike at Old Trafford this season,' Mancini told France Football.
'With him anything anything is possible. It's difficult to say today if I will recall Balotelli but everyone is available and I will make my choice on Sunday.'
Balotelli's most recent red card came in a defeat to the Gunners, which saw City drop eight points behind rivals United. The margin at the top of the Premier League table has since been cut to three but Mancini insists he feels no animosity toward Balotelli despite his latest brush with controversy.
'It's like a family when a child does stupid things,' said Mancini. 'The affection of the parents is still there.
'He's young and he commits big mistakes that can put the team in difficulty. But I still think he has great talent and I hope he will be a City player next season. It's all in his hands.'
Meanwhile, City defender Joleon Lescott believes Balotelli has learned from his mistakes and remains confident in his Italian team-mate's ability.
'[Mario] needs to look at his performances and if he sees he's disappointed the lads, it's great that he's realised that,' Lescott said. 'He's a young lad, we all make mistakes and it's going to happen. When I was his age I was making mistakes in the Championship and it was going unnoticed.'