MOVIES, MUSIC AND MEDIA CORRUPTION (2)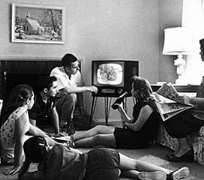 How do l describe the corruption in the media, movie and music industry? "When they refused to acknowledge God, he abandoned them to their evil minds and let them do things that should never be done. Their lives became full of every kind of wickedness, sin, greed, hate, envy, murder, fighting deception, malicious behavior and gossip. They are backstabbers, haters of God, insolent, proud, and boastful. They are forever inventing new ways of sinning and are disobedient to their parents, break their promises. They are fully aware of God's death penalty, for those who do these things, yet they go right ahead and do them any way. And, worse yet, they encourage others to do them, too" (Rom. 1:28-32, NLB).
Bible principle or rule says, whatever you do should be to God's glory. (See 1 Cor. 10:31-33) Ask yourself, the write up, the news you are airing, the movie play or acting, the song you are singing or the music you are playing does it bring glory to God? The dance in nudity and expression you are using does it bring glory to God? Does it build up others' faith to want to do right? God is not against the media, movie, music industry but the kind that deviates from godliness and sanity. Electronic mass media have become the dominating means of conveying and purveying modern culture among young people. Is that a good thing? I believe it's time to draw the line on media corruption' And according to recent poll published by Media Analyst, most of you will agree with me. More than 81 percent of all Nigerians polled admitted that they were "seriously concerned" or "uncomfortable" with the direction that modern entertainment has taken of late. Only 2 percent believe that media "should have the greatest influence on children's values". But 67 percent believe that it does wielding even "greater influence than parents, teachers, coaches or religious leaders"
Television has become Nigeria's drug of choice – a kind of "electronic valium" as David Chagall claims in Surviving the Media Jungle. And virtually everyone across this vast land is using it. Again, the sheer numbers are worth examining Nigeria children watch an inordinate amount of programming preschoolers watch an average of more than 27 hours each week – more than four hours per day. On school nights, Nigeria teens limit their TV consumption to only about three hours per night. In contrast, though, they spend about 54 minutes on homework, fewer than 16 minutes on reading about 14 minutes alone with their mothers and fewer than five minutes with their fathers.
And what is it that we all are watching so obsessively? Sex, dysfunction, perversity, cynicism, skepticism and anything and everything but moral clarity. And then there is the violence: the average Nigerian child watches 8,000 made – for TV murders and 100,000 acts of violence by the end of grade school. By the time the child has graduated from high school that number will have doubled. The casual carnage is woven into supposedly real-life-situations with amazing alacrity. One survey found that situation comedies, cartoons and family dramas were just as likely to feature violence as police procedurals, medical dramas and period masques. A telejournalist David Frost has said, "Television enables you to be entertained in your home by people you wouldn't have in your home". With the proliferation of cable channel options has come a multiplication of the very worst elements of broadcast entertainment from the past – plus, a vastly enlarged menu of offerings heretofore unimagined and unimaginable. But whatever is wrong with television is doubly wrong with Nollywood films. Televisions flimsy restrains on profane language, gratuitous gore and graphic sexually are altogether absent in the movies.
What is the Broadcasting Organization of Nigeria (BON) and allied film agency charged with editing offensive material such as "blasphemy, filthy language, explicit eroticism or perversion, superfluous or anti Nigerian sentiment" out otherwise, such film is not released to the general public doing? It is hard for us to imagine today, but this cooperative association for self-censorship sought to up hold community values in virtually every arena that the art of film might touch upon. If there is anything that may actually have more influence over our culture than television and movies it is music. Music captures the heart. It is as powerful spiritual force. It can be a tool of great good or a weapon of great destruction. Too much of our popular music is not even singable. Not only is it often without recognizable tune, pitch, cadence or tenor – and even without melody, harmony or regular rhythm – but it is also so profane that it is unrepeatable. Many rap and rock songs have gone far beyond the mere bounds of pornography to vile brutality, scatological filth, sadistic nihilism, blasphemous irreverence and provocative decadence.
Previously, pop music was almost always sentimental, sappy and insubstantial. Now, it is nightmarishly barbaric. With the advent of grunge rock, hip-hop, goth rock, gangsta rap, death metal and speed metal, a new wave of wildly angry music with minimal melody lines or hooks, harsh and distorted electronics, incessant syncopations, and vile lyrics – has swept onto center stage. Steeped in a hopeless worldview of suicide, occultism, sexual abuse, self-mutilation, brutal sadism and random revenge, the music is depressing, dark and deleterious. High-volume, deliberately disgusting and offensive shock jocks" profile the music and its irreverent lifestyle; its devil – may – care worldview, and its slovenly fashion sense in music videos and over FM radio stations.
This is what our nation's kids are listening to, this is what they are down loading from iTunes. This is what they are swapping on the have on their iPods. No wonder the song of the soul of Nigeria is so dissonant. A steady diet of that kind of music is likely to have a terrible effect on anyone – but it especially influence impressionable adolescents. And teens have more than a steady diet of it. Add to television, movies and music the violent or perverse content in any video games and on Internet sites and you have a prescription for cultural disaster. At every turn the vision, the standards and the precepts that provoked the great flowering of western civilization are subverted and that makes for a terribly unusable society. Any solution to media, movies and music corruption? Read next issue. Have question, you may call: 08033399821 or write: [email protected] Stay blessed.
Written By Dr. Lewis Akpogena

Disclaimer:

"The views/contents expressed in this article are the sole responsibility of

thewillnigeria.com

and do not necessarily reflect those of The Nigerian Voice. The Nigerian Voice will not be responsible or liable for any inaccurate or incorrect statements contained in this article."
Articles by thewillnigeria.com